Choosing an Anchor Rode: Three-Strand, 8-Plait, or Double-Braided Rope?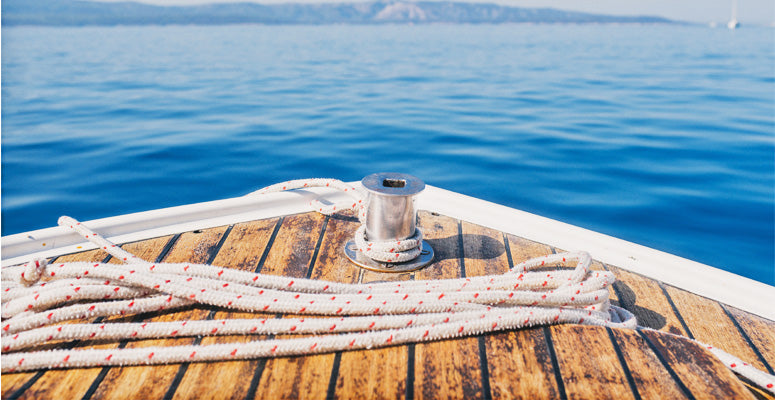 All anchor rode is not created equally. If you've shopped for anchor rode before, chances are that you have seen a variety of different anchor line types and wondered what the difference is. In this article, we will discuss the differences and similarities between the most popular styles of anchor line.
Nylon rope has long been the fiber of choice when it comes to selecting the proper rope for all mooring, docking, and anchoring needs. Nylon rope is strong, flexible, lightweight, and provides elasticity which mitigates peak loads on your anchor and boat. The two most commonly used types of nylon rope are either braided or twisted line.
What's the difference between braided and twisted nylon rope?
Braided rope is created by braiding together nylon strands into a tube-like braid. Braided rope, such as 8-plait or double-braided line, is stronger and is nicer on the hands than twisted rope, but can be difficult to splice yourself. This means if you're using a windlass and chain, and you are doing your own splicing, you'll probably need to use twisted rope. Twisted rope, such as three-strand line, is created by taking fibers and twisting them into strands, and then twisting the strands into rope. Both types of rope are extremely useful to have on board your boat, but both have their own strengths and weaknesses.
Double-Braided Anchor Rope
Double-braided nylon anchor rope is ideal for anchor rode setups or other applications requiring strong, abrasion resistant line. Double-braided line consists of 24 braided nylon strands and is generally stronger than twisted line and more comfortable to handle. Due to its construction, this type of line is much smoother on the hands during anchor retrieval and does not tangle easily when being stored in the anchor locker. 
PROs
More flexible than three-strand and 8-plait
Offers the most overall strength
Easier on the hands
Offers excellent abrasion resistance
Falls into the anchor locker much easier than twisted rope - optimal for shallow anchor lockers
More sturdy in the long run
CONs
Difficult to splice (local marine shop can do this for a small fee)
Features less stretching capabilities than twisted rope
Damage to the outer sleeve will impact overall line strength
Three-Strand Anchor Rope
Three-strand twisted nylon anchor rope is a great option for most anchor rode setup, mooring setup, or nearly any other application requiring a strong and versatile line. Three-strand rope provides excellent elastic properties allowing the line to stretch under load. This ability to stretch helps keep a set anchor in place as the boat jerks and shifts the taut anchor line.
PROs
Most economically priced vs double-braid and 8-plait
Easy to splice to anchor chain
Provides great elasticity for more secure anchor setting
Still retains decent overall strength if one strand is damaged
Chafe-resistant
CONs
May stiffen over time especially when used in saltwater
More prone to tangling in the storage locker
Coils loosely, taking up more room in the anchor locker
Jams more frequently at the windlass
Not as strong as double-braid
8-Plait Anchor Rope
8-plaited braided nylon rope is another strong and versatile line that improves on some of the ease-of-use and handling characteristics of three-strand rope. 8-plait uses 8 individually braided strands woven together that allow the rope to retain its strength while also allowing the rope to be a bit more relaxed.
PROs
Same tensile strength as three-strand rope
More absorbent than three-strand rope means the line will be heavier and will fall into the anchor locker more efficiently
Less prone to becoming stiff over time
Has less stretch than three-strand rope so it will not bury itself as deep in the gypsy when overloaded
CONs
More difficult to splice than three-strand
Not as strong as double-braided rope
Does not feed through the windlass as smoothly as double-braided rope
Which Anchor Rope is Compatible With My Windlass?
Each windlass requires a specific type of anchor rope. Trying to use the wrong line with your windlass can lead to equipment damage and failure. Most Lewmar windlasses call for either three-strand or 8-plait rope, while Anchorlift windlasses often require Anchorlift branded double-braided anchor rope. To find the exact type of rode your windlass accepts, it's important to check the manual that corresponds to your unit. If you've misplaced your manual, a quick google search or a glance at our Anchor Rode Identification Guide should provide the specifications you need.
Published