Best Options For Connecting Your Boat To WiFi Internet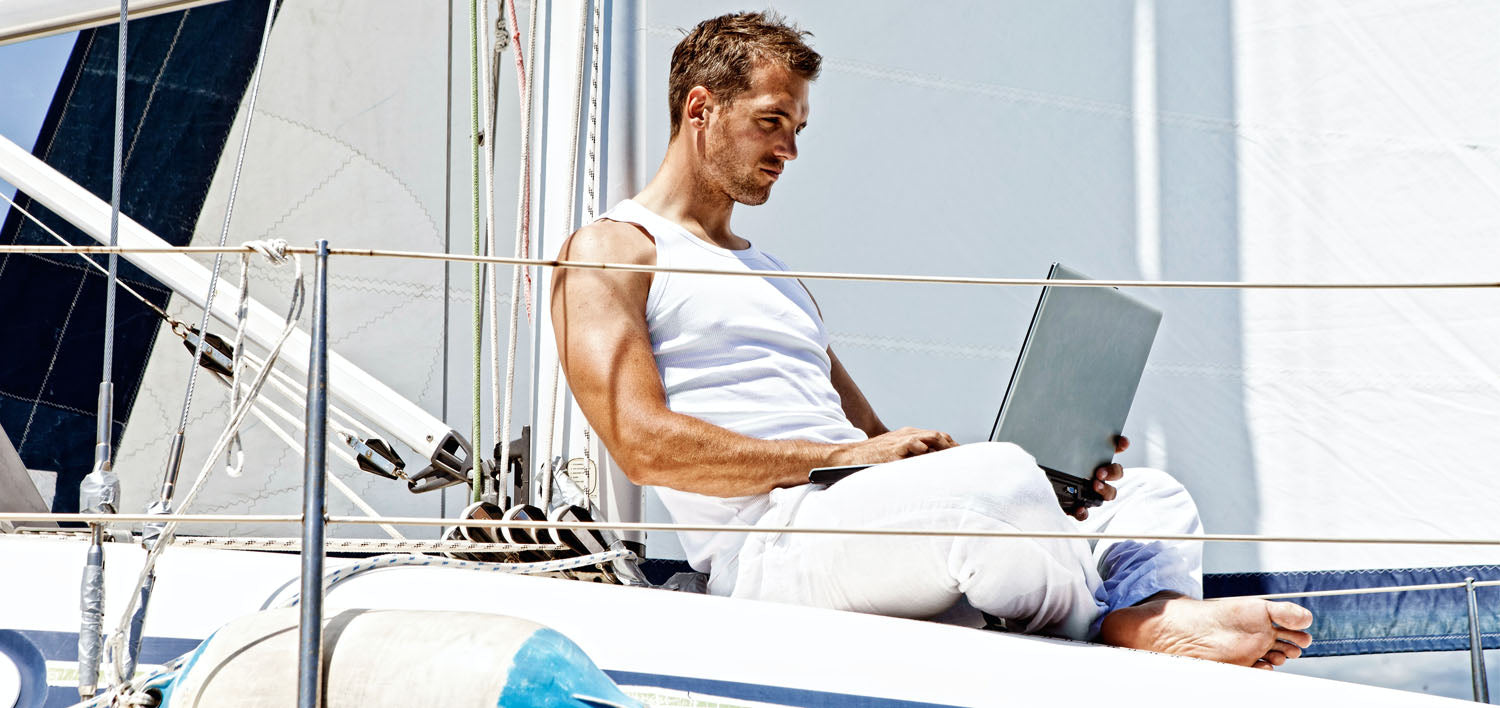 Whether you're sailing around the world, exploring remote destinations, or hosting a few friends for a weekend getaway, there has never been a better time to connect your boat and guests with high-speed internet. Today's digital era has made connectivity an essential part of work and play for most people, so we've assembled the best methods for accessing the internet right from your boat.
The three main options for adding internet to your boat are:
Land-Based WiFi
Cellular-Based Internet Hotspots
Satellite Internet
Each of these options has its own pros and cons, so follow along as we explore each one to help you determine which option (or which combination of options) will work best for you.
Land-Based WiFi
The simplest and least expensive option for adding internet to your boat is to utilize nearby land-based WiFi networks. Most marinas and campgrounds offer free or low-cost wireless internet to those staying in the vicinity. Depending on where you're located you may also be able to take advantage of nearby restaurants, hotels, or coffee shops offering free WiFi. However, we've found that land-based WiFi options are generally the least reliable when attempting to connect to the internet. Overloaded networks, weak signals, and overall sluggish internet speeds make it tough to rely on these networks when you really need to stay connected. With that said, there are several ways to improve these WiFi signals to get the most out of land-based internet.
WiFi range extenders or boosters can be effective tools to amplify the signal coming from on-shore networks to your boat. These devices can help to boost weak signals by vastly expanding your typical router's WiFi visibility range – some even extend this range to 5+ miles!
There are a variety of range extenders available, but make sure you choose a quality waterproof extender that is feature-rich and easy to use to help avoid potential headaches when you're using it. The Bearify Extender ($55), ALFA CampPro Extender ($154), and KING KF1000 Falcon ($400) are all great options depending on your specific needs.
Do your research. If you've traveled from marina to marina, you've probably noticed that WiFi performance can vary wildly between locations. If you rely heavily on provided WiFi networks, this is where a little research and planning ahead can go a long way. Before arriving, give the marina a call to inquire about bandwidth, coverage area, and overall quality of service. On the web, onSpot can also be a valuable resource when researching potential marinas to visit. onSpot partners directly with hundreds of marinas in North America to provide high-speed and secure internet to guests for a reasonable fee. Be sure to check out their coverage map to see if their services are available at a marina near you.
Cellular-Based Internet Hotspots
Cellular-based internet is probably the most popular option today for boaters looking to enjoy reliable internet while on the move. Cell phone coverage and speed are constantly improving and since everyone already has a cell phone in their pocket, it can be extremely easy to set up a basic mobile hotspot.
Hotspots are devices that use an existing wireless carrier's signal to connect other devices to your mobile network. Using a mobile hotspot allows you to connect laptops, tablets, and other devices to the internet without having to rely on marinas or other land-based establishments for WiFi. Most hotspot devices offer powerful connectivity in a small footprint so they can easily be transferred between different boats or vehicles. However, there are certain factors that can limit your hotspot capabilities and leave you with a poor connection. Hotspots rely on mobile carriers' signals to connect you to the internet, so for example, if you are a Sprint customer and are in an area with poor Sprint service, your hotspot will not be of much help. Hotspots also use your mobile data, so you need to be sure you have enough data on your plan to keep your devices connected.
The best plan when using a mobile hotspot is to make sure you have a good backup plan. By adding certain redundancies to your cellular-based internet setup, you will significantly increase your chances of staying connected to high-speed internet. Here are several tips and tricks boaters often use to optimize their mobile-based internet.
Add a secondary carrier to your setup to help reduce "dead zones". While mobile coverage is becoming better and better, there aren't any mobile service providers that have complete coverage across the entire country. By utilizing two major providers, you will be increasing the chances that one of your hotspots will have coverage in remote areas.
If you plan to use your cell phone's internal hotspot feature (also known as WiFi tethering), we recommend using a cell phone with dual sim card capability to allow you to add a second line and utilize multiple providers. WiFi tethering is a good option to use in a pinch or if you're only providing internet for one device, but if you're looking to connect multiple devices then we recommend using a standalone hotspot device. If you use standalone hotspot devices, it's a good idea to also establish plans with multiple providers to make sure you're always connected.
Unlimited data is your friend. As I'm sure many of you are already aware, burning through mobile data these days is becoming extremely easy to do with unlimited apps and streaming services available at your fingertips. Allowing family and guests access to your hotspots will only increase the amount of data being used, so you need to be sure you have enough to go around.
Finding a truly unlimited mobile hotspot plan these days is becoming tougher, but there are still options available to keep you online. Verizon, AT&T, T-Mobile, and others do have hotspot plans available at blazingly quick 4G and 5G speeds, but most of these plans cap your monthly data usage under about 30GB. These do provide good options for high-quality streaming, but it can also be easy to drain your data limit quickly with these plans. However, there are still some unlimited plans available if you know where to look. For example, the Calyx Institute offers a truly unlimited 4G LTE Sprint / T-Mobile hotspot plan that is becoming increasingly popular with travelers looking to maintain quality internet without having to navigate data limits. This service charges a yearly rate and sends you a hotspot device that's ready to connect you and your guests to unlimited internet.
Satellite Internet
The third and final option for connecting your boat to the internet is via satellite connections. While satellite internet may be an excellent option in the future, quality satellite broadband plans can be extremely pricey at the moment. There are companies, such as HughesNet, offering reasonably priced options, but the satellite performance just isn't quite reliable enough yet.
Satellite internet generally requires minimal motion in order to perform at its best, and this isn't really possible on a moving boat. In addition to that, strong wind and rain can also interfere with your signal. There are high-quality options out there if you really need it, but you will end up paying an arm and a leg for them. We are keeping a close eye on Elon Musk's Starlink satellite service to become a viable option in the next few years, but for now, it's probably best to reserve satellite communications for your emergency sat phone – should you ever need it.
Published