Top Trends in Recreational Boating for 2023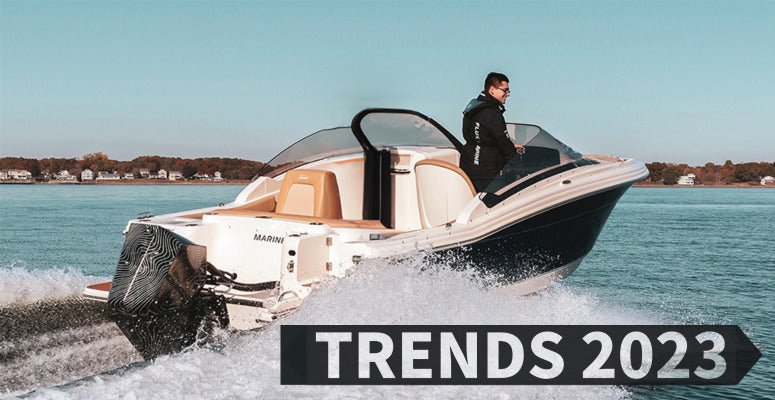 If you're a recreational boater, you know that the industry is constantly evolving. From new boat designs and technologies to changing consumer preferences, there's always something new on the horizon. As we approach the end of 2022 and start thinking about the upcoming year, it's a good time to look at some of the top trends in recreational boating for 2023.
Electric Boats
One trend that has been gaining momentum in recent years is the use of electric propulsion systems in boats. While electric boats have been around for a while, they have traditionally been limited to small, slow-moving craft. However, advances in battery technology and electric motor design are starting to make electric boats a viable option for a wider range of applications.
Electric boats offer several benefits over their gas-powered counterparts. They are quieter, produce zero emissions, and require less maintenance. In addition, they are often more energy-efficient, which can save boaters money on fuel costs.
As electric boat technology continues to improve, we expect to see more and more manufacturers offering electric models in a variety of sizes and styles. Whether you're in the market for a small electric dinghy or a larger electric cruiser, there are likely to be more options available in 2023.
Multifunctional Boats
Another trend we're seeing in recreational boating is the rise of multifunctional boats. These are boats that can be used for a variety of different activities, such as fishing, cruising, water sports, and more.
One reason for this trend is the increasing popularity of "hybrid" boats that combine elements of different boat types. For example, a hybrid boat might have the hull of a fishing boat, but also include amenities like a swim platform and a wakeboard tower. This allows boaters to get the best of both worlds, without having to purchase separate boats for different activities.
In addition to hybrid boats, we're also seeing more boats with modular designs that can be easily reconfigured for different uses. For example, a boat might have a removable bench seat that can be replaced with a sunpad for lounging.
Connected Boats
The Internet of Things (IoT) is starting to make its way into the recreational boating industry. More and more boats are being equipped with connected features that allow them to communicate with other devices, both onboard and ashore.
One example of this is the use of smart gauges, which can provide real-time information on the boat's performance, fuel consumption, and more. Smart gauges can be accessed via a smartphone app, which can be convenient for checking things like fuel levels or engine performance without having to physically inspect the boat.
Other connected boat features include onboard Wi-Fi, GPS tracking, and the ability to remotely control certain systems (such as lights or pumps). We expect to see more and more boats with these types of features in 2023, as manufacturers seek to differentiate themselves in a crowded market.
Sustainable Boating Practices
As concerns about the environment continue to grow, we expect to see more and more emphasis on sustainable boating practices in 2023. This includes things like using eco-friendly materials in boat construction, adopting energy-efficient propulsion systems, and adopting environmentally responsible boating habits (such as properly disposing of trash and not disturbing wildlife).
Many boaters are also starting to consider the "carbon footprint" of their boats, and are looking for ways to reduce their impact on the environment. This could include using alternative fuels, such as biofuels or electric power, or adopting sustainable boating practices that minimize fuel consumption (such as slowing down or using sailing power when possible).
In addition to individual efforts, we also expect to see more marinas and other boating facilities adopting sustainable practices. This could include things like installing solar panels or implementing recycling programs.
As you can see, there are plenty of exciting trends on the horizon for recreational boating in 2023. Whether you're in the market for a new boat, or just looking to upgrade your current one, there are sure to be plenty of options that meet your needs and preferences. From electric boats and multifunctional designs to connected features and sustainable practices, there's something for everyone in the recreational boating world.
Published