Boat Cleaning Tips for Anglers: Keeping Your Vessel Spotless and Pristine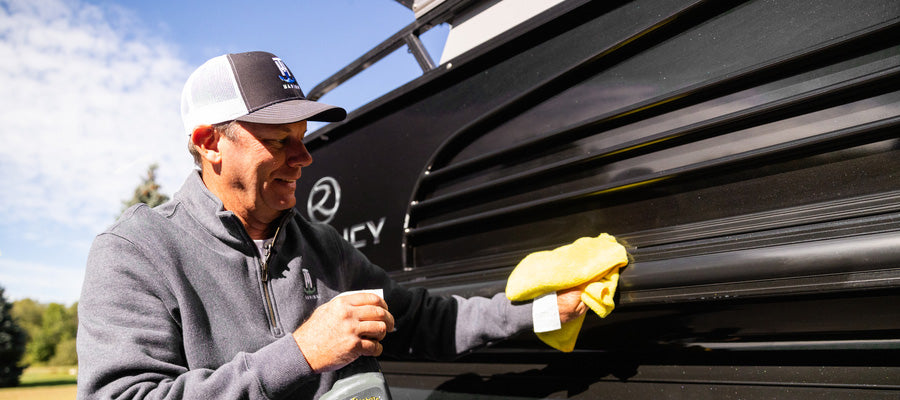 As passionate anglers, we understand the importance of maintaining our boats in top-notch condition. A clean and well-maintained boat not only enhances its appearance but also prolongs its lifespan. We'll share expert tips on boat cleaning after a successful fishing expedition and introduce you to an exceptional product, Star Brite Instant Hull Cleaner Gel, which will revolutionize your cleaning routine.
Product Highlight: Star Brite Instant Hull Cleaner Gel
Star Brite Instant Hull Cleaner Gel is a boat cleaning game-changer. Very likely, after a busy fishing trip, you'll have plenty of mud, bait, and fish slime and blood residue staining your boat. With its new gel formula, this cleaner "sticks" to the surface, ensuring maximum cling time and cleaning power. It excels at completely covering stains, penetrating them, and dissolving even the toughest marks, such as rust, dried fish blood, and leaf stains. Designed for use on all fiberglass and painted surfaces, it is particularly effective on vertical surfaces. Now, let's look at tips for effective boat cleaning after fishing.
Use Recommended Cleaning Products
To ensure optimal care for your boat, it's advisable to visit a reputable marine store, marina, or boat dealer. They will provide valuable guidance on selecting the right cleaning products specific to your boat's material and finish. Star Brite products are a solid choice, provided you match formula to task.
Clean Baitwells, Fishboxes, and Fish Coolers
After every fishing trip, make it a habit to clean baitwells, fishboxes, and fish coolers. Scrub them thoroughly using soap and water and consider using baking soda to eliminate odors. Rinse these compartments meticulously to remove all traces of residue.
Remove Water and Aquatic Vegetation
To prevent the spread of invasive species, ensure you drain any water from wells and the boat bilge. Additionally, remove any visible aquatic vegetation from the boat stern and trailer. This proactive step will help preserve the delicate balance of our aquatic ecosystems.
Pay Attention to the Boat Trailer and Outboard Motor
Don't overlook the cleanliness of your boat trailer and the outboard motor. Thoroughly rinse both with fresh water to eliminate salt, sand, and debris that can lead to corrosion and damage over time.
Tackle Stubborn Stains with Power Washing
For the most stubborn stains, consider using a power washer occasionally. A power washer is an effective tool for removing built-up grime and dirt. If you don't have access to a power washer, you can take your boat to a self-service car wash equipped with a powerful hose. Persistent stains can also be eliminated with a purpose-formulated product such as Star Brite's Instant Hull Cleaner Gel featured in this article.
Maintain a Proper Storage Routine
How you store your boat plays a significant role in its cleanliness and longevity. Covering your boat when not in use protects it from bird droppings, falling leaves, and other environmental elements. Opt for a boat cover that fits securely, ensuring the utmost protection, and look for a cover designed for storage and not just trailering. If possible, store your boat under a carport or in a garage to shield it from harsh weather conditions, this will also preserve your boat cover by keeping the destructive power of the sun off it.
Utilizing Star Brite Instant Hull Cleaner Gel
Now that you're armed with these essential boat cleaning tips, let's explore how Star Brite Instant Hull Cleaner Gel can elevate your cleaning routine. Start by spraying the gel directly onto the surface you wish to clean. For added protection, it is recommended to wear rubber gloves during the application. Allow the gel to remain on the surface until the stains disappear, and then rinse thoroughly with fresh water. For more stubborn stains, a repeated application with a longer soak time and gentle scrubbing may be necessary. Remember, the best results are achieved when the temperature is over 50°F. To restore your hull's shine and protect it from future staining, consider applying one of Star Brite's Marine Polishes.
Important Considerations
Before concluding, it's crucial to note a few important considerations when using Star Brite Instant Hull Cleaner Gel or any cleaning product:
Avoid Contact with Fabrics and Anti-Fouling Bottom Paint: The hull cleaner gel may cause discoloration on fabrics and certain types of anti-fouling bottom paint. Take care to prevent any contact with these surfaces during the cleaning process.
Be Mindful of Decals and Inferior Quality Surfaces: Some inferior quality decals may be discolored by the hull cleaner gel. Exercise caution to keep the spray or drips off these surfaces. Prioritize the protection and integrity of decals and any surfaces that may be prone to damage.
Precautions with Non-Intended Surfaces: Take extra precautions to prevent contact between the hull cleaner gel and boat trailers or any other surfaces not intended for cleaning. The product is designed for use on fiberglass and painted surfaces and should not come into contact with incompatible materials.
Conclusion
You can now take your boat cleaning routine to the next level! By incorporating these tips into your boat cleaning routine, you'll not only keep your vessel looking pristine but also contribute to its longevity and performance. So, gear up, grab your Star Brite Instant Hull Cleaner Gel, and embark on a cleaning practice that will leave your boat sparkling clean after every fishing trip.
Happy boating!
Published