The Bahamian Moor: How to Set Two Anchors off the Bow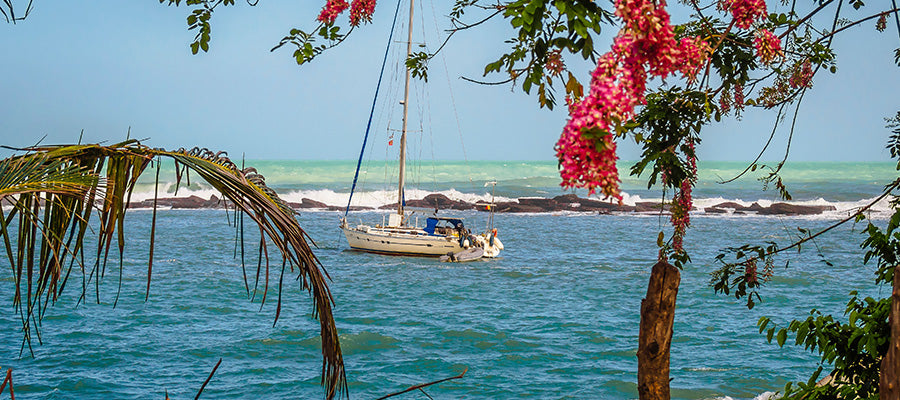 In the Bahamas there are many channels and tidal cuts between sandbars and islands. In order to anchor safely there, mariners came up with a system of anchoring fore and aft, allowing the boat to swing in the middle. This two-anchor method would limit swing with tide and wind changes and keep vessels off sandbars. The technique became known as the Bahamian Moor. We'll discuss when to use this anchoring style, and how to do it properly.
When
The advantage of using a Bahamian Moor over other two-anchor techniques such as Bow and Stern, is that the Bahamian Moor allows your boat to swing around a central point. This means that not only are you able to anchor in narrow channels or bays, you can also moor in a tidal cut between islands where there are strong changing winds and tidal reversals. Your boat will pivot and face into the wind or current, whichever dominates, and will not swing much in the process, keeping your boat safe from running up on sandbars or land.
Be careful if there are other boaters anchored though, as your vessel will move differently from theirs if they are on one anchor, which could result in a collision. Communicate with other boaters to ensure they know you are using two anchors.
How

Deployment
Drop and set your main anchor as usual and into the tide. Consider adding a tripping line to assist in hauling anchor and to warn boaters of your anchor location when your boat swings stern-to. Back away from the main anchor letting out twice as much scope as you need.
Drop and set the secondary or kedge anchor off the stern. Consider adding a tripping line and buoy to assist in retrieval and to warn boaters you have a second anchor out.
Move back up the current taking up the main rode while paying out the stern rode until you are halfway between the two anchors. Once in position and both anchors are set with proper scope, connect the stern rode to the main rode using a shackle if you are attaching to chain or mid loop such as a bowline on a bite if you're attaching to rope.
Lower the connection point into the water and let out enough line to clear the keel. This will allow the boat to swing around the junction without tangling on the lines.
Retrieval
Raise the connection point until you can access it and remove the stern line from the bow line.
Reverse back to the stern anchor point letting out bow anchor line as you go. Haul the stern anchor.
Power back to the main anchor point and haul anchor as usual.
Finally
We've covered the basics of the Bahamian Mooring technique here, which should be enough to get you started. Remember practice makes perfect and you'll want to try this technique in safe areas under favorable conditions with no other boats around until you are comfortable with it. Make your own notes on the process so that they, and you, are ready when it comes time for deploying the Bahamian Moor in a real scenario.
Happy Boating!
Published