Make The Most of Your Bimini Top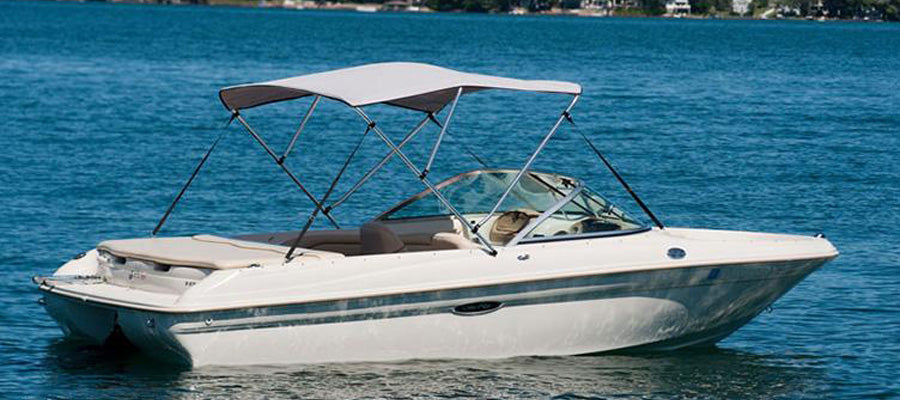 Without proper shade, a long and relaxing day on the water could be cut short by too much exposure to the hot sun. Bimini tops are an inexpensive and easy accessory you can add to your boat to provide more enjoyment during your time on the water.
When shopping for a Bimini Top, it's easy to become overwhelmed trying to find the best match for your boat. Bimini tops offer many customizable features such as tube types, bow numbers, thread counts and color options to fit almost any boat. Which one is right for you?
Follow along below to learn exactly what these different options mean and find out which option will work best for your boat.
Bimini Top Bow Numbers
The bows of the bimini top are the parts of the frame that connect from side to side over the width of a boat. The bows slide into canvas sleeves that hold it in place. The size of the boat determines how many bows are used in the construction of the bimini top.
3 Bow Bimini Tops
3 bow bimini tops are the most common style of top used today. The 3 bow tops are 6' long and 46" high. They are recommended for V-hull runabouts, ski boats, center consoles, and performance boats. The widths are available in a variety of sizes ranging from 54" to 78" in order to fit your specific boat.
4 Bow Bimini Tops
4 bow bimini tops are typically used for larger boats such as pontoons or deck boats. They are usually around 10' in length and 54" high. The widths available for 4 bow bimini tops typically cover 91" to 103" wide boats.
Frame Types
Generally, there are two types of frames used for bimini tops; round or square. Round frames are typically used for standard 3 bow bimini tops and are made from aluminum or stainless steel. Square frames are typically a bit stronger than the round styles and are used for your larger pontoon or deck boats. Aluminum frames are best used for freshwater boating and stainless steel frames are suited better for saltwater boating.
Add-ons and Upgrades
Shade and Towel Clips
Bimini towel clips are just what you need for clipping towels, wet rags, t-shirts, or any other item made of fabric to your boat bimini top. They work well for many purposes in a marine environment such as drying clothes, setting up a privacy wall, putting up a barrier from sun/rain/wind, keeping a rag handy when you are doing work, and much more. The clips grip tightly to your bimini so that your items are secure even at speed or in windy conditions. They are easy to use: push on over material to install, pull up one side to remove.
Bimini Support Poles
Make your bimini top even sturdier with aluminum support poles. Bimini support poles install onto your existing bimini top and replace your rear nylon straps. These aluminum support poles are sturdier than traditional nylon straps and can be removed easily by simply unscrewing the deck hinge to allow you to fold your bimini top down.
Bimini Top Storage Boot
Keep your bimini top protected with a boot cover. Towing, storing, and docking your boat in the elements can fade and damage your bimini top. To keep your top looking good and functional for years to come, make sure to always fold your bimini down and store it in a fully zippered boot when your top is not in use.
Cleaning and Repair
As with any surface on a boat, bimini tops can get dirty and worn from regular use. To keep your top performing well and looking great, it's important to maintain a regular cleaning schedule. 
We recommend you perform light cleaning on your bimini top as often as you perform light cleaning on your boat. Loose dirt and sediment can build up on your top after just one outing. Brush off any loose dirt then hose it down to remove any additional debris. Use a cleaning solution of water and mild soap to scrub the fabric with a soft bristle brush. Let this solution soak into the fabric for several minutes, then scrub once more and rinse the top thoroughly with a hose. Let the top air-dry before folding the top down for storage.
Other Tips and Tricks
Do not keep your bimini top deployed at high speeds. The general rule of thumb is to put the bimini down if you plan on going over 30 knots (35 mph).

Do not leave your bimini top up indefinitely. To improve the lifetime of your bimini cover, fold your bimini down when not in use.

Check all screws and straps regularly to ensure the frame and canopy are tightly secured to the boat.

Spray the fabric down once a year with a fabric protectant/waterproofer to help improve the longevity of the fabric.
We hope you now have a better idea of which bimini top options are best suited for you and your boat. Follow our tips on cleaning and storage advice to increase its overall lifetime. When it does become time to replace or upgrade your bimini top, remember, we have you covered!
Published