How to Install a Windlass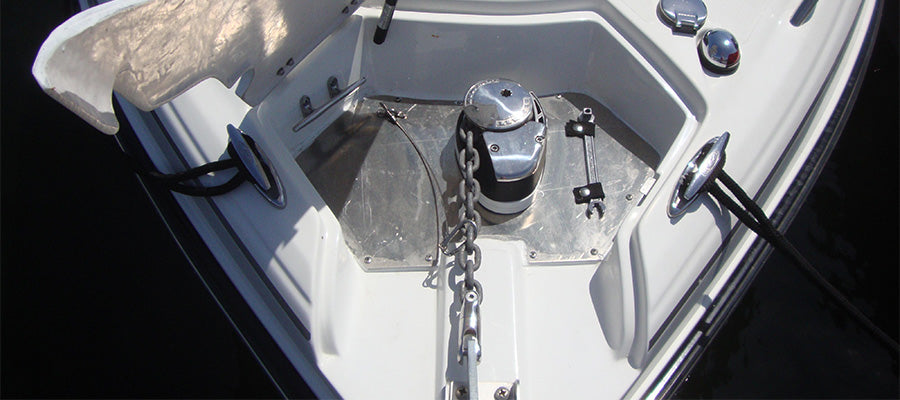 Hand hauling your anchor is fine if you have a small boat with a small anchor for fishing or lunch stops, but once your anchor and tackle starts getting up in weight, hand hauling is a real pain – literally – you can hurt your back! If your boat did not come with a windlass installed, you can install one yourself if you are comfortable making modifications to your boat such as drilling holes and doing some basic wiring. We'll walk you through it in this article. For any specific examples, we'll be referencing the Anchorlift Barracuda Windlass.
Preparation
Boat Requirements
Your boat must have a bow roller, ideally self-launching.
You will need a straight, clear path from bow roller wheel to windlass gypsy. Any angle on the rode, side-to-side or up-and-down can lead to excessive strain on your windlass and problems with feed. Account for the fact that you may need to shim and/or offset the windlass during installation to maintain a direct path.
You must have room for chain locker space under the bow that will allow for the rode to fall at least 12" for a horizontal windlass or 18" for a vertical windlass.
Deck thickness can be a factor because you'll have components above and below deck. With a Barracuda for example, your deck must be within 3/4" to 1 1/2". You may be able to install with greater deck thicknesses by getting appropriate supplies and advice from the manufacturer. Don't forget to add the thickness of any support backing plates you install as well.
Ground Tackle Requirements
Ensure you have windlass rode that your new windlass can handle. Windlasses are very specific about what rope and chain they will take. Consult the specifications to be sure you have the correct type and size. Also make sure your rope is properly spliced to your chain rather than shackled, as a shackle will not go through a windlass.
Tool & Supply Requirements
Pencil
Drill
Drill Bits
Hole Saw
Rasp / File
Wrench Set (you may need metric)
Allen Wrench Set (you may need metric)
Pliers
Wire Snips/Crimps
Dremel (optional)
Heat shrink tubing, liquid electrical tape or other method for waterproofing wire connections
Wire routing clamps
Epoxy
Masking Tape
Marine Grease (Waterproof)
Marine Sealant / Caulk (non-permanent)
Thread Locker
Installation
Windlass
Use a template to plan where you will install your windlass. Check that your gypsy will line up with your bow roller and that the rode will run level, within 10 degrees. Note that this usually means the windlass itself will be offset from the center of the boat.
Before drilling, make sure there are no obstacles below deck. Double check that you have at least 12" of fall for the rode below deck in the case of a horizontal windlass and closer to 18" for a vertical windlass.
If there is any curvature in the deck that would prevent the windlass's below deck portion from being parallel with the above deck portion, make and install shims to compensate. This will prevent damage to the gearbox and base.
Using the windlass mounting template provided by the manufacturer, mark all holes you will need to drill. Make sure to use the correct size of bit. With a Barracuda for example, the provided stainless bolts are 8mm, so use a 10mm bit.
Grease the windlass shaft and gearbox bushing with marine grease. It is also a good idea to coat the gearbox and motor with an anti-corrosion spray before installation.
Seal your mounting holes, especially if the deck is a sandwich construction, to prevent water from entering your deck's core materials. It is recommended to bore out 1/2 an inch or so of core material with a Dremel and fill it with epoxy resin followed by epoxy to seal it.
Seal your windlass. Run a bead of sealant or caulk around the base of the windlass before installing.
Once the above deck portion is installed, align and install the bottom deck portion. In the case of a horizontal windlass, this will be a backing plate only. For a vertical windlass it is crucial to get the motor in the correct position and orientation, so it does not interfere with the rode pathway. The motor should be as far from the rode hole as possible. Then, fit the shaft into the gearbox aligning the key into the keyway. Align the deck bolts to the holes in the gear box flange and push the assembly firmly to the underside of the deck. Secure with thread locker and the supplied stainless hardware. Wait for the sealant you applied earlier to cure before fully tightening all nuts.
Wiring
General Considerations
It is important to use your windlass manual for guidance in wire selection and connection. In general terms, you will have either a two wire or three wire motor. These are wired slightly differently. Always install a circuit breaker to protect your windlass. It is also important to note that voltage drop occurs over wire distance, the longer the wire, the larger wire size needed.
Consider the switch gear you will want to add – helm switch for operating your windlass from the helm, foot switch for operation at the windlass itself, and/or remote for roving operation.
It is a good idea to support your wiring about every 18" to reduce flex and entanglement from boat movement. Waterproof all wire connections using heat shrink tubing or an alternative.
Sizing Specifics
Consult your manual for the correct wire sizing depending on draw and wire length. For example, an Anchorlift Barracuda 600 requires 4-6 AWG wire if circuit length is up to 24', and 4 AWG if over 24'. Ensure your circuit is as short as possible for the least possible voltage drop.
Wiring Diagrams
Below are example wiring diagrams for 2-wire and 3-wire installations of vertical and horizontal windlasses by Anchorlift. Your installation will be similar but may vary, so be sure to consult your manual.
2-Wire
3-Wire
Wrapping Up
If making holes in your boat and stringing wires around sounds a little more than you want to tackle, have a contractor install your windlass for you, but if you have a few other boat installation and wiring projects under your belt, you'll have no trouble with installing a windlass. This article provides some guidance, but it bears repeating: always consult your windlass manual for specific installation requirements and procedures. If you don't have the manual, most manuals can be found through the manufacturer's website or searching online.
Published