Boating With Dogs: Essentials and Creature Comforts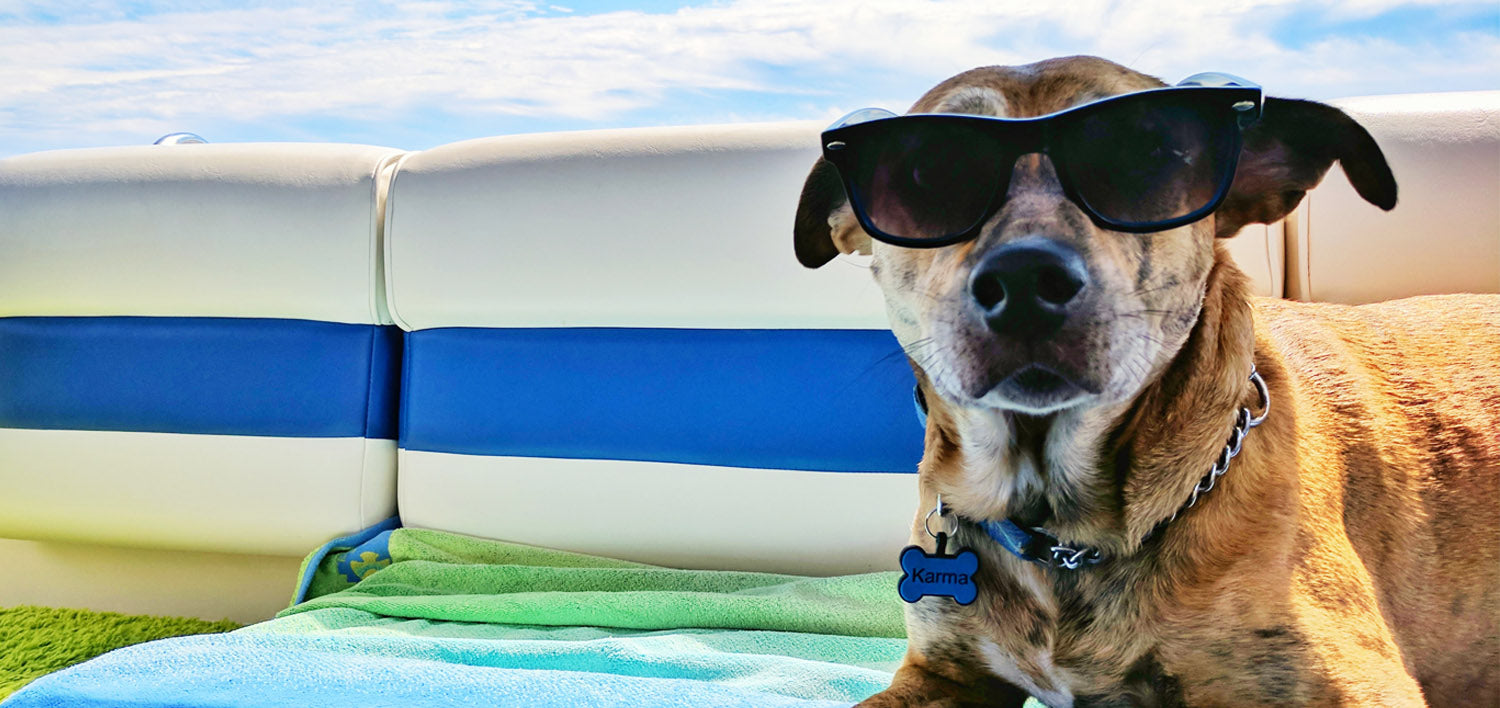 Are you planning on taking your four-legged companion out on the open seas? Dogs can make great first mates whether you're setting sail for the long voyage or taking the boat out for some quick fun in the sun on your favorite lake. Dogs and boats can be a fun combo, but there are extra precautions you should take to ensure Fido remains safe and secure.
Prior to setting out on the water, it's a good idea to first assemble your gear and familiarize your dog with the boat itself to get them used to the experience. Invite your dog on board to sniff around and explore the layout of the boat. Show them how to get on and off the vessel and find a safe spot for your dog to get out of the elements and relax for a while. Start with short trips to help your pet become accustomed to the motion and sounds of the boat before heading out for longer excursions.
The Essentials
Water
You should always have clean water and a drinking bowl available on the boat for your dog. Letting your dog grab a quick drink from the sea or a lake can have dangerous consequences. These bodies of water often contain harmful parasites or organisms that can pose a real threat to man's best friend. Dogs may also try to drink salt water which will cause them to get sick. Pack clean water as well as a collapsible bowl and encourage your dog to drink often to help keep them cool and to discourage them from lapping up harmful water.
Dog Life Jacket
It's always a good idea to outfit your pup with a life jacket while on board a boat. This is an important safety feature on any boat, but is particularly crucial on smaller crafts, canoes, or kayaks. Shop around for a canine life jacket that fits well, isn't too bulky or hot, and preferably that has a handle on top.
While most dogs are naturally good swimmers, life vests ensure your dog will remain safe from accidental slips overboard, swim fatigue, or other potential accidents on the water.
Shade
Shade and proper sun protection is as important for dogs as it is for humans. A blistering hot day mixed with a full coat of hair can be a recipe for disaster for our four-legged friends. If your boat doesn't have a covered area or a cockpit big enough for your pup, be prepared to bring some kind of canopy or sun shade for your dog to escape the heat for a while. 
Potty Break
Dogs need to relieve themselves too! You should make an effort to stop occasionally to let pets and people alike take care of business. If a quick trip ashore isn't an option, come prepared with plenty of doggie waste bags, paper towels and cleaning solutions. If you plan to bring your pup along on extended trips, it may not be a bad idea to train your dog to use puppy pads on the boat. Taking these simple preparations into consideration can help you and your dog make the most out of your boating trip.
Boat Access
Dogs are all to eager to dive off the boat and explore their surroundings. However, once in the water it can be much more difficult to wrangle your slippery pooch back into the boat. Smaller dogs can easily be scooped up or grabbed by their life jacket handle but bigger dogs aren't so easy to assist back on deck.
Typical boat ladders are often too narrow and slippery for a dog to use. Luckily, there are a number of dog specific boat ladders and ramps available that can be easily added to your boat. These solutions come in a variety of shapes and sizes to fit your specific breed and type of boat.
Creature Comforts
Dog Treats and Fetch Toys
Keep Fido well nourished and happy by bringing along sufficient dog food and a favorite fetch toy. An occupied dog is a happy dog. A fetch toy is the perfect thing to keep your dog entertained and burning off excess energy. Once your pup has had enough swimming and exploring for the afternoon, keep enough food and treats around to replenish some of those calories they've burned.
Non Slip Mat
If your boat has a fiberglass deck it can be a tricky ride for your pet's paws. Give them the stability they need to ride the waves by bringing along a non-skid mat where they can be sure footed while you cruise. If toting a mat along for your trip isn't feasible, grippy dog shoes can also be a helpful alternative.
Towel
Your guests will thank you! We all know a dog's first instinct after they get out of the water is to shake all that excess water out of their coat. Keep your guests dry and from smelling like a wet dog for the rest of the day by bringing an extra towel or two.
Float or Water Lounger
We all know your pup wants to be right in the middle of the action, so help them out and keep them safe by providing them with a float or water lounger. Your pup will be convinced they are truly living the life of luxury and you'll have peace of mind knowing the dog is safe and comfortable.
Our Favorite Boat Dogs
Enter in to win our monthly $100 gift card giveaway by sending your favorite boat dog pictures here!
Published