Boat Ladders: Tips and Tricks for Buying Boat Ladders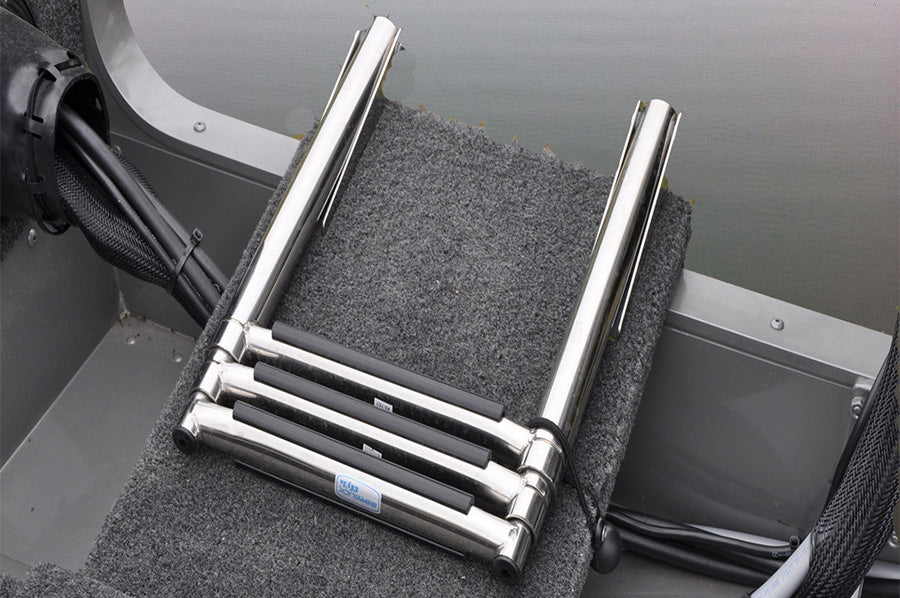 When thinking of getting a new boat ladder, you need to make sure you get the correct boat ladder and mount for your boat. Also, different boat ladders fulfill different purposes. Boaters often ask questions such as:
"I own a 2001 ABC  23' Pontoon Boat, What size and type of boat ladder do I need?"
There are many styles of boat ladder: dive ladders, pontoon boat ladders, folding boat ladders, bass boat ladders and even dog boat ladders to help you furry friend get back on boars after they have had a quick swim.
In the ideal situation you want to find the exact match boat ladder that will fit to save you drilling new holes, thing in in many cases if your boat is over 10 years old it can sometimes be hard to find an exact match.
Plus if it's newer that 10 years, chance are the boat manufacture will be able to help but they can be expensive $400 plus.
The best way to pick up a new boat ladder is if you buy a replacement boat ladder, this way you will pay around $100-$150, now again it may be hard to find an exact match, but you will save a few hundred dollars in the process and what's a few small holes once you've filled and covered them up safely.
Here's a quick guide to help you select the right boat ladder or your boat:
Gunwale Boat Ladders
These are more of a temporary ladder that hook over the side (Gunwale) of your boat. There require no permanent fixture and simply step down into the water. When buying a Gunwale boat ladder just make sure it's the correct depth to fit over the Gunwale of your boat.
Pontoon Boat Ladders
Pontoon boat ladder are designed exactly for the application and design of Pontoon boats with many different types of mounting styles to choose from. You can opt for the removable style which allows to keep the deck clear for recreation use or you can get them permanently fixed with a selection of stowing options either folding or underneath mount for access out of the water.
Transom Boat Ladders
Transom boat ladders can be purchased for many applications. They are perfect for sailboats or power boats lacking a swim platform. One decision you will need to make is if you need it to be fixed or removable. They either mount on top of the transom with rails or hooks, or fit flush on the side or rear of your boat.
Platform Boat Ladders
If you have a boat with an outboard motor chance are you won't have any type do swim platform and this is where the platform boat ladder comes in handy. Mounting permanently to the transom of the boat, they include a small swim platform, side rails and again come with 1 or more steps as they are already low to the water.
Dive Boat Ladders
As the name states these are for the use of divers and the main advantage is you can exit the water without having to remove you dicing gear first. Dive boat ladders you will find to be more heavy duty due to the weight they need to hold so before you purchase make sure you find the right one that will hold up to the weight requirements.
You can find the steps wrapped in PVC to ensure maximum comfort when boarding. Plus they can includes mounting bracket with locking tabs for positive lock and quick release for trouble free stowage
Swim Platform Boat Ladders
The swim platform ladder hangs down from the rear of the boat and like it says attaches to the swim platform to aid in easier access when raising yourself up to the platform. Since the ladder is already so close to the water you will find they also only have 2-3 steps.
In most cases the ladder will mount permanently and can be purchased in two styles, fold on top or slide underneath when not in use.
I hope this article on selecting the right boat ladder has been helpful and aids you in your decision.
Published