Best Fuel Saving Tips For Boaters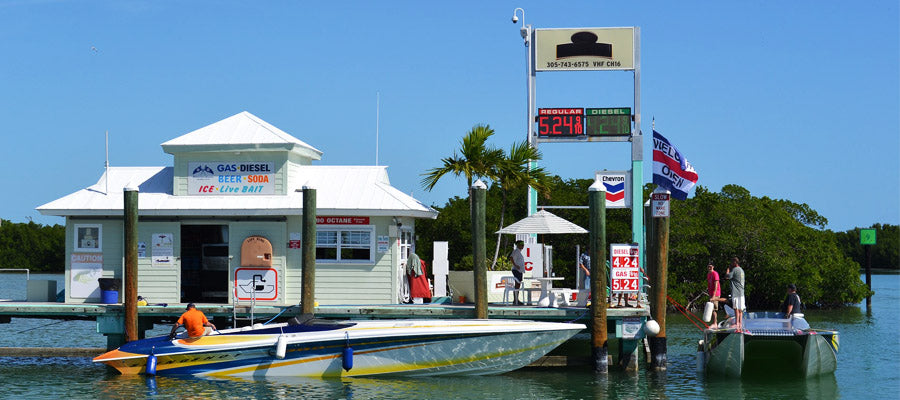 Boating is all about leaving the stress and grind of everyday life behind for a while and enjoying some quality time with friends and family. With the warm summer months at our doorstep, boaters everywhere are looking for ways to take full advantage of a fun and relaxing boating season without draining their wallets. No boaters are immune to the sting of fuel prices, but there are a number of things we can do to significantly reduce the pain at the pumps.
Practical boating adjustments for reducing fuel costs:
Clean the hull. Aquatic debris and buildup can slow you down quite a bit by increasing the amount of drag your boat produces while slicing through the water. Eliminate this friction by cleaning the bottom of your boat and applying a fresh coat of antifouling paint.
Reduce drag. Much like a car, the aerodynamic properties of your boat can have a big impact on fuel efficiency. Reduce your drag by removing any unnecessary obstacles from the top of your boat, and lower your bimini top when traveling at cruising speeds.
Trim properly. As soon as you leave the no-wake zone, you should aim to achieve a level plane to prevent plowing through the water and to decrease your boat's drag. If your bow rises high out of the water, adjust the weight distribution towards the bow and check that the trim tabs are working properly.
Lighten the load. Hauling around a bunch of unnecessary gear forces your boat to work harder and use more gas. Get in the habit of only taking the items you need for your trip.
Service your engine. A clean engine is a happy engine. A regularly serviced engine will run smoother and more efficiently than a neglected engine. Oil, spark plugs, and air filters should be changed regularly. Keeping up with engine maintenance ensures that your engine components will continue running efficiently for years to come.
Check your prop. A damaged or misaligned prop can significantly reduce fuel efficiency and put additional stress on your engine. Keep a close eye out for any dings or dents on the prop. If any damage is noticed, it may be a good idea to have a professional run diagnostics on the prop to see how far out of spec it may or may not be.
Tips for fuel-efficient driving styles:
Plan your route. Prior to leaving for an extended boating trip, carefully map out your route to avoid opposite currents and areas with high winds or chop. A boat is much less efficient trying to cut through choppy waters.
Reduce your speed. As with cars; the more aggressively you drive, the more fuel you burn. Maintaining a lower cruising speed and limiting your throttle adjustments will ultimately save you money on fuel costs.
Use a trolling motor. If you are an angler, use a trolling motor in addition to your main engine to save on fuel costs. Small trolling motors help you navigate your favorite fishing holes while eliminating the need to run your main engines.
Consider a fuel flow meter. Monitor your speed, RPMs, and fuel consumption with a fuel flow meter. This gauge allows you to monitor fuel consumption in real-time and provides visual feedback that you can use to tune your speed, trim, and driving habits to improve efficiency.
Tips for saving money at the pumps:
Don't fill it all the way up. This may sound counter-intuitive, but driving around with a full tank actually reduces fuel efficiency. This might mean making more trips to the dock more often, but you'll be saving money in the long run.
Fill your gas cans. Whether you're heading out for a day on your single-person PWC or your 20-person catamaran, don't forget to fill your gas cans before hitting the water. Fuel cans provide enough gas to get you out of tricky situations or may provide just enough fuel to top off your jet ski and avoid heading to the dock altogether. Either way, it's always a good idea to keep a full can or two handy. 
Fill up on the road. If trailering a boat, you can also fuel your boat at a gas station to reduce the price you would pay at the dock. Take certain precautions so that you don't overfill and make sure you have easy access to the fuel door to avoid spilling any gas. Pro tip: use the GasBuddy app for android or IOS to find the cheapest gas prices while on your way to the dock.
Published