8 Essential Nautical Knots For Your Boat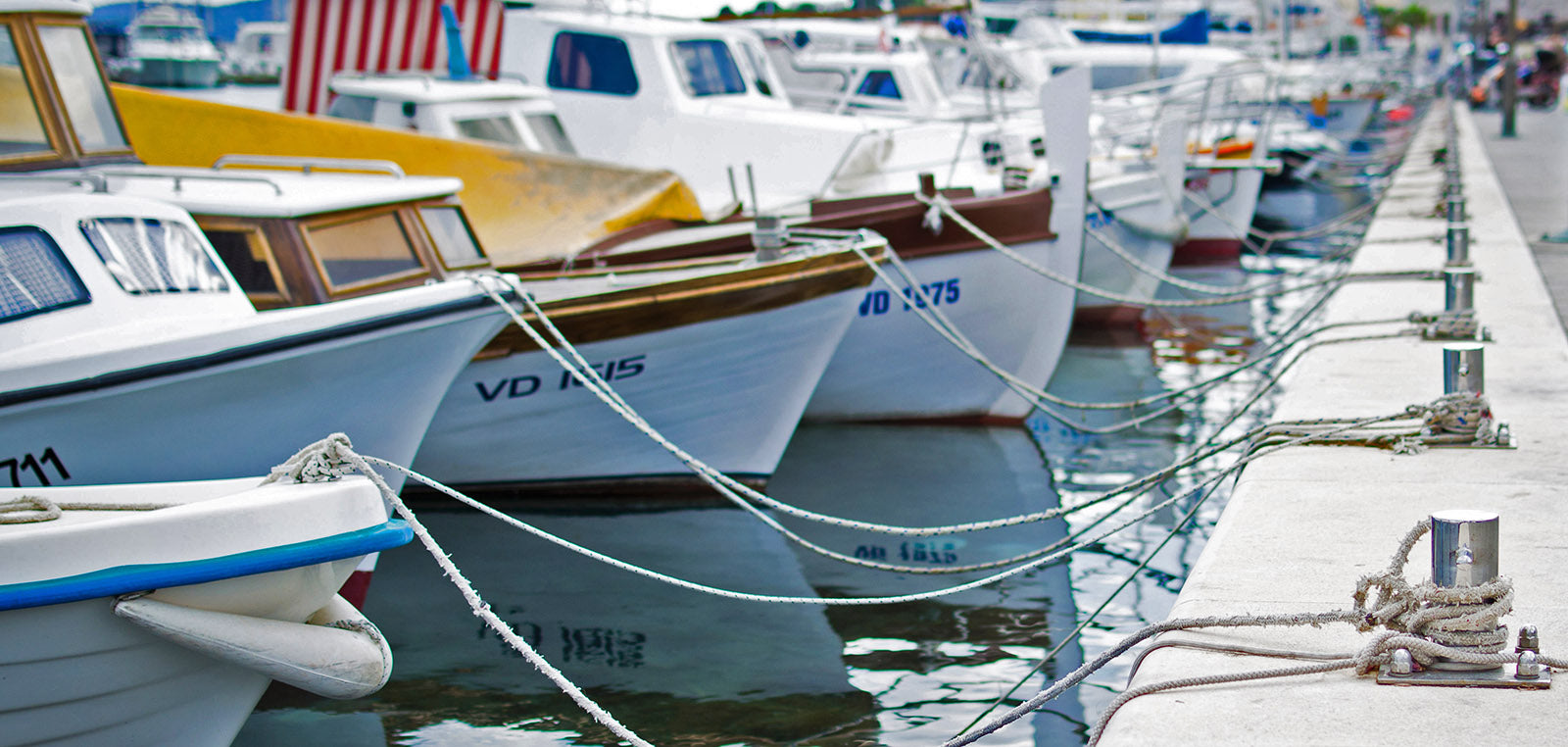 There is nothing like heading out on a boat with a few friends for a nice relaxing day on the water. As all boat owners know, proper planning and preparedness go a long way to ensure your time on the water goes off without a hitch. Knot tying is an essential part of being prepared on open water. As you probably know, there are thousands of knots out there - each with their own strengths and weaknesses. In an effort to save you some time and headache, we have whittled that list down to 8 essential knots every boat owner should know.
Figure 8 Knot
Also called the flemish knot, the figure 8 knot is a convenient and durable stopper knot with many uses. This knot secures your rope in place by preventing the tag end of the rope from slipping out of most retaining devices. The figure 8 knot is a durable and non-slip knot that is easy to tie and untie.
Ideal Uses:
Preventing rope ends from slipping out of boat rigging, pulleys, etc.
Docking
Mooring
---
Two Half Hitches
The two half hitches or double half hitch is a durable and adjustable knot that is one of the most common methods used for mooring. The knot consists of a simple overhand knot followed by a half hitch. This sturdy non-slip knot can be used to secure boats to almost any size or shape post, dock, tree, ring, etc by tightening the adjustable loop end around the object. The two half hitches is easy to tie but can be slightly harder to untie if under extreme load.
Ideal Uses:
---
Square Knot
Also called the Reef Knot, this method is a simple binding knot used to combine two similarly sized ropes. This quick and easy knot is typically used for reefing and furling sails or to secure cargo to the deck of the boat. The square knot is recommended for light use only as it is unsafe to use for heavy loads.
Ideal Uses:
Reefing and furling sails

Combining two sections of rope

Securing light cargo to your boat
---
Bowline
The bowline is another essential knot used to create a fixed loop at the end of a rope. This extremely versatile knot can be used in situations that require a firm hold that is easy to untie at a moments notice. Once tied, the bowline can fasten a mooring line to a cleat or post or can be used to tie a jib sheet to a clew of a jib for sailing. The knot will not slip or bind under heavy load and is easy to untie quickly while not under load.
Idea Uses:
---
Clove Hitch
Also known as the double hitch, the clove hitch is considered one of the most important and most commonly used knots in the world of boating. This easy to tie binding knot uses 2 simple back to back half hitches around a post. The running end of the rope can be adjusted quickly to different lengths and holds tightly as long as 1 strand is weighted.
Ideal Uses:
Positioning and tying fenders to the rail
Docking
Mooring
General Utility
---
Anchor Hitch
Also referred to as the anchor bend or fisherman's hitch, the anchor hitch provides a secure link between your anchor and anchor line. The anchor hitch is about 10% stronger than the bowline and can also be used to attach rope to a ring or other similar terminations.
Ideal Uses:
---
Sheet Bend
Also known as the beckett's bend or weaver's knot, the sheet bend is a great way to join two ropes of either the same size or different sized diameters. It's best to use this knot for ropes which are under load, as it can work loose on ropes which are not under any strain. The sheet bend can be tied tight against a sail or can also be quite useful for making fish nets.
Ideal Uses:
---
Cleat Hitch
This super fast and easy knot is used to secure your boat to the dock when dock cleats are available. The cleat hitch is an essential boating knot that every boat owner should learn. The knot is designed to tie and untie quickly and hold your boat firmly in place to most docks and boat lifts.
Often times new boaters will tie the cleat hitch improperly leaving them open to the possibility of their boat drifting loose from the dock. In order to ensure your boat will be waiting for you where you left it, it's important to pay close attention to step 4 and 5 of the illustration below. When wrapping the rope around the last horn (step 4), form an underhand loop and slip that loop over the horn of the cleat. Pull tightly on the free end of the rope to pin the loose end of the rope under the last wrap (step 5).
Ideal Uses:
---
Published