2020 Holiday Gift Guide - 15 Best Boating Gift Ideas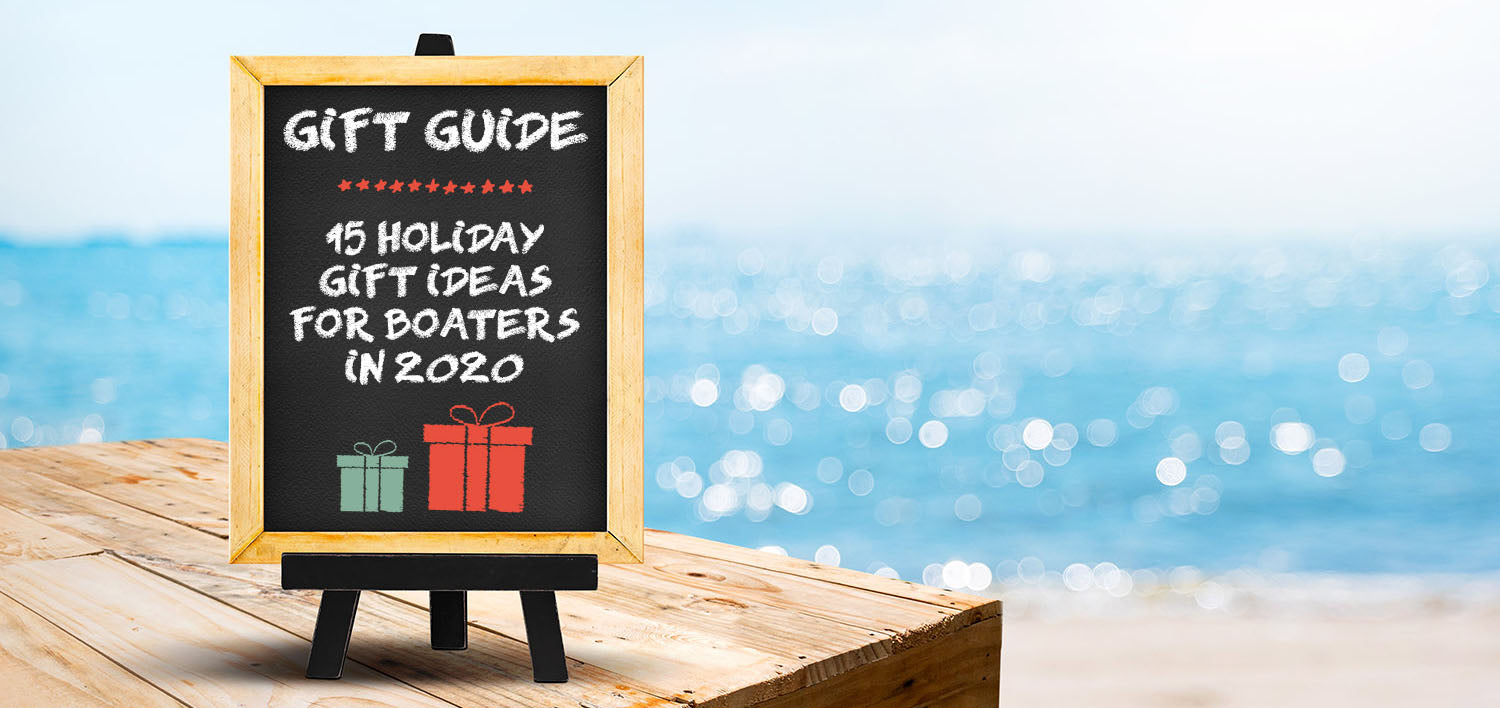 It's that time of the year again! Are you having troubles finding that perfect gift for your boating enthusiast? Never fear, we have assembled 15 of this years coolest and best gift ideas that will put a smile on any boaters face.
The mariner cheese board makes a perfect gift for boating enthusiasts with its helm-shaped rubber wood construction and four stainless steel cheese tools with rubber wood handles that fit snugly into slots on the side of the board, resembling helm handles. The perfect gift for boaters who enjoy entertaining friends and family. View more info here.
A personalized bottle opener made from a dock cleat makes an excellent gift for that hard to shop for boat owner. Add the name of the boat, the captain's nickname, or even a custom logo engraving to make this a truly unique gift for your favorite boater. View more info here.
There's nothing better than enjoying a nice meal on the water surrounded by friends and family. This elegant and functional dinnerware set makes an excellent gift for boat lovers. It adds a nautical taste to every meal and makes a great addition to any galley or home kitchen. View more info here.
How many times has your cold beverage been spilled or gone overboard while on open water? If you're like us, the answer is too many! Non-tipping can coolers keep your beverages ice-cold while also providing a firm hold on virtually any surface making this the perfect stocking stuffer for your boating enthusiast! View more info here.
Give the gift of protection and peace of mind! Every boating enthusiast should have at least one trusty dry bag to help keep all of your contents dry and give you the protection that you need from the elements. View more info here.
Add a little fun to your favorite boaters kitchen or galley with this sailboat themed 2-piece ceramic salt and pepper shaker set. These shakers feature nautical themed stripes and look like a little sailboat when assembled in their blue "boat hull" base. View more info here.
This intricately handcrafted ship in a bottle decanter makes a beautiful conversation piece for that favorite boater in your life. The oak base and detailed glass decanter is sure to turn heads whether it's sitting sitting in your bar at home or in the galley of your boat. View more info here.
Stainless Steel Nautical Cutlery/Flatware adds a thematic touch to your dining experience, at home, on the water, or on the road. This 24-piece set includes 6 knives, 6 forks, 6 teaspoons, and 6 tablespoons all in brilliant stainless steel with decorative anchors on the handles. View more info here.
Ahoy all wine drinkers! The life preserver wine bottle cover makes a fun gift for boating enthusiasts and wine lovers alike. This gift will be sure to put a smile on your recipients face and add a little flair to their next seaside picnic or nautical themed table setting. View more info here.
This beautiful and informative coffee mug let's you enjoy your favorite cup of joe while simultaneously teaching yourself how to tie eight essential nautical knots. The 10 oz. mug features a dock cleat for a handle and comes complete with a length of rope. Follow the illustrations on the mug and you'll be a knot tying master in no time! View more info here.
Most boaters agree that you can never have enough cooler space during a hot summer day on the water. Insulated cooler bags are an excellent piece of gear that every boater should have. They work great as a handy secondary cooler or can even operate as an emergency dry bag with their leakproof liners. View more info here.
A personalized cutting board makes a great boating gift. The board can be customized with the name of a boat, a nautical quote, or the name of your favorite captain. Use the cutting board as a display, or flip the board over and use it to prep goodies down in the galley. View more info here.
Waterproof Bluetooth speakers are a great gift for boaters, outdoorsman, anglers, or anyone else who wants to hear good tunes while out enjoying nature. Speakers with at least an IPX6 or higher waterproof rating can handle most of what mother nature can throw at you. Throw one of these on your boat or in your pack and you'll always have great-sounding music at your fingertips. View more info here.
This amazing 10-in-1 boat gadget can handle just about anything your average boater will ever come across. The tool includes a boat bottle opener, corkscrew wine opener, square drain plug wrench, survival whistle, deck boat gas cap key, flip top gas cap, flat top drain plug tool, canvas snap opener, molded notch for a 6" deck plate, fishing line cutter and T-Bar drain plug hole crank. Give one to your favorite boater and never worry about them having the right tool for the job again. View more info here.
We've all been there.. you're either out of time or simply can't find the perfect gift for your stubborn Secret Santa recipient. Gift cards are the perfect way to save the day and ensure whoever receives them will be able to get exactly what they want. It's a win-win! View more info here.
Happy Holidays and Happy Boating!
Published