Shore Anchoring or Beaching Your Boat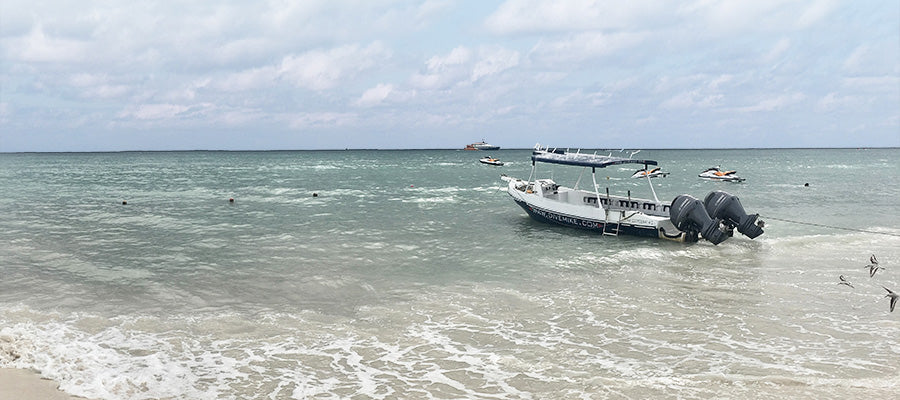 Part of the fun of boating is spotting a beautiful beach, or interesting little cove, and pulling in to enjoy lunch or a swim in idyllic surroundings. If you're lucky, there will be a dock to tie to, but most often it'll just be the bare shore. If you drop anchor as usual, you'll be loading up the dinghy and going back and forth, boat to shore whenever you need something. It is far more convenient to bring the boat into shore, especially when you are just stopping for lunch. In this article we'll discuss proper techniques for anchoring your boat at the shore.
Should I Beach It?
The short answer is no. While it may seem easiest to just trim up the motor and power up onto the sand, there are significant problems to be aware of with this approach. The most critical are getting stuck, getting swamped, and losing the boat to a rising tide. A falling tide can leave your boat on dry ground, or a strong push from a wake or wave can do the same. Waves may also swamp your boat, especially coming across your stern since you'll likely be bow-ashore. If you're not careful with securing your boat, when the tide comes in it may carry your boat off, leaving you stranded or forced into a long swim to retrieve it. Furthermore, a storm you didn't see coming can make all these matters worse before you have time to push off.
There are additional drawbacks too. Gelcoats, antifouling, and keels can all get damaged from dragging across coarse sand or unseen rocks. It is far better to use a proper shore anchoring approach that leaves your boat slightly out from shore.
How to Anchor Near Shore
Anchoring your boat at the shore instead of beaching it avoids many of the problems outlined above and allows for convenient access to the stern of your boat to grab a floatie or a snack. While it may not be quite as easy as running the boat up onto shore, the peace of mind is worth the effort.
Anchoring near shore is a two-anchor technique, the bow anchor goes in the water, the stern anchor goes on the shore. Both anchors should be prepared to deploy before you start:
Start by preparing to drop the bow anchor off the stern. Route your anchor line on the outside of the boat, bow to stern, to avoid catching the rode on anything. Power into deeper water and turn the boat toward shore. Considering that your boat will end up closer to shore in about waist-deep water, plan your scope so that your anchor will set well. Drop the anchor from the stern. Once the anchor is down, proceed slowly toward shore paying out line as needed and keeping it clear of props.
Move to shore carefully avoiding any hazards and trim up the engines. Pause at the shoreline and unload your stern anchor off the bow, routing the line on the opposite side of the boat from the bow anchor line. You can also unload any goods and crew you want to at this time. Have one of your crew set the stern anchor up the shore above the high tide line if possible and make sure the rest of the rode is coiled or flaked to pay out freely on its own.
Using the bow anchor line, pull the boat to turn it away from the stern anchor line and out into deeper water until the stern is about waist-deep and the props are well clear of the bottom even if a good size wave were to come by.
Once you are satisfied with your position, tie off your bow anchor rode. Head to the stern and pull in the stern anchor rode until you have enough tension on both anchor lines to hold the boat in place. You're all set!
It's Time to Go!
Hauling anchor and heading out is straightforward. Release the bow anchor line and pull your boat closer to shore so that gear and crew can easily be loaded back on the boat. Secure the bow line again. Have someone grab the shore anchor and bring it aboard with them. Now pull your boat into deeper water with the bow rode. Once the engines can be lowered and started safely, you can haul your bow anchor as usual.
A Few Final Thoughts
Sand Anchors
If you are in something smaller like a PWC, there are anchors made just for the purpose of anchoring near shore! You can pick up a sand anchor for example. When empty it can be stored in a very compact space. When you need it, simply fill it with sand and toss!
Sand Screws or Spikes
Instead of using a regular stern anchor such as a fluke for your shore anchor point, you may want to employ a spike or screw. These hold better than regular anchors on shore and are easy to set and remove.
Some articles out there suggest that you reverse your boat from the bow anchor toward shore in step 1 above. Never do this. It can be dangerous if there are swimmers around, and you can easily back into a sandbar or other near-surface obstacle.
Taking a shore break after being on the water for a while is great fun, especially if you find a quiet beach all to yourself! You may find that you want to just beach the boat and get on with the fun right away, but it is wiser to take your time and anchor out from shore properly. End the day as happy as you started it!
Published