Prevent Dock Line Chafing and Know When to Replace Failing Boat Lines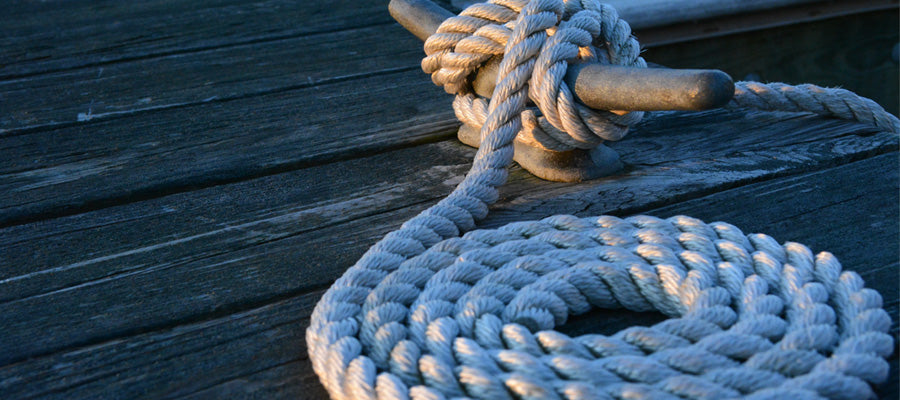 Line chafe is one of the biggest enemies when it comes to boat ownership. Chafed and weakened boat lines are not only dangerous for overhead rigging but can also cause dock lines to fail and send your expensive investment adrift. It's important to know how to prevent dock line chafe and to recognize when damaged dock lines are in need of replacing.
The Importance of Good Quality Dock Lines
Quality dock lines are often one of the most overlooked components of essential boating gear. Often times, dock lines are the only thing keeping your boat from drifting into the unknown. When a sudden storm or high winds occur, you want the assurance of knowing that your lines are doing their job and keeping a firm link between your boat and the dock. Continual usage and wear can severely weaken these lines over time and they will eventually fail if they are not repaired or replaced. One of the cheapest ways to insure your investment is to keep a keen eye on the condition of your lines and to know when you should change them out.
What is Boat Line Chafe?
Boat line chafe occurs when lines are repeatedly scraped and rubbed on surrounding surfaces. Over time, this friction almost acts like the blade of a saw, slowly deteriorating the fibers and weakening the overall integrity of the line until it reaches its fail point. Factors such as the sun and exposure to the elements can also weaken dock lines, but none will break them down as fast as chafing will. Chafe can occur really anyplace or time, but the majority of it will occur while at the dock. Wind, tide, and current will keep the boat in constant motion, leaving dock lines vulnerable to abrasion.
How to Spot the Signs of a Failing Boat Line
It's always a good idea to closely check your dock lines every time you use your boat. If your boat has been docked for a long period of time you should check dock line condition periodically, especially if storms or high winds are common in that area.
When you check your dock lines, you want to make sure that the line is not obviously frayed or cut. If the line appears fuzzy, this could be an indicator of damage to the line. You will want to pay special attention to the layout of your dock line arrangement to look for spots that are vulnerable to chafing against the dock or even other dock lines. Even if the lines appear to be in good condition externally, there is still the possibility that the internal fibers are worn and beginning to fail. Test each line by handling them and pulling on each end. If the line feels week or brittle in any way, it might be time to swap it out.
How to Prevent Line Chafe
Luckily there are a number of DIY prevention methods and chafe gear products on the market to help extend the life of your boat lines. 
DIY Methods
Garden hoses can be cut and repurposed as protective sleeves for dock lines. If the garden hose is wide enough, simply slide the line through the length of hose. You can also cut the hose longways to feed the line into place. Once you've worked out the location where chafing will occur, position the hose appropriately and attach it with a smaller line or strong tape to keep it firmly in place.
Homemade chafe guards can also be made from various types of fabrics and materials. A length of leather can be sewed around the line to protect those high friction areas. We have even heard fellow boaters have long-lasting success from fashioning chafe guards out of the exterior sections from fire hose picked up at the local fire department.
Other Methods
There are many great products out there to help protect your dock lines from chafing. One of the most popular methods of protection is removable chafe guards. These guards are typically made of high-quality nylon and come in a variety of different diameters. These sleeves can be quickly positioned to high friction areas and offer excellent protection against wear.
Dock line snubbers are another great tool to combat dock line stress. Adding dock line snubbers to your setup will reduce the stress to your dock lines by absorbing much of the shock created by the motion of your boat. These snubbers keep constant tension on your boat by gradually absorbing any shock load that travels through the system. This helps to reduce stress to dock lines, keeps your boat firmly in place, and also protects your boat and the dock from abrupt tension.
Chafe mats and guards that attach directly to your boat can also greatly reduce line wear in areas that create friction against the boat itself. Protecting these areas will not only extend the life of your lines but will also protect the boat's finish or rails from chafing. There are plenty of great stainless steel and abrasion resistance solutions to prevent such situations from occurring.
No matter how well you care for your dock lines there will always come a time when you need to replace your old lines. Extend the life of your dock lines by using these preventative measures and always remember to check your lines regularly to monitor wear and tear. When the time does finally come to replace your old worn out lines, we've got you covered.
Published