How to Pick an Anchor Rope Size, Type, Length and More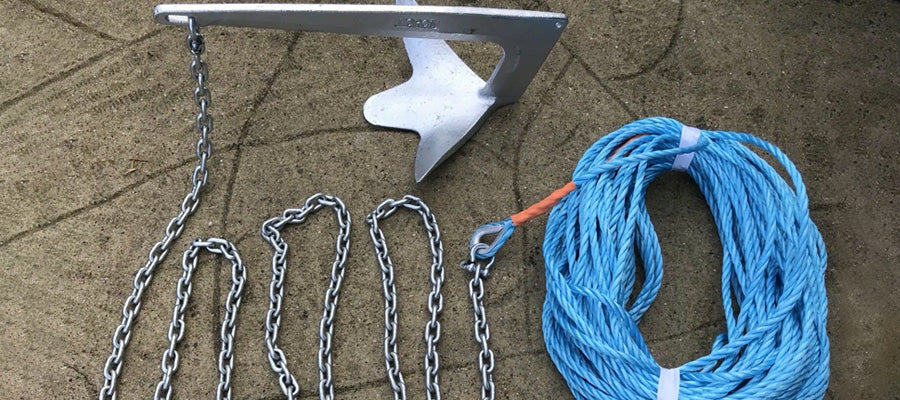 Every anchor needs to be attached to the boat some how. In this article we'll discuss everything anyone ever needed to know about anchor rode.
Video: Everything You Need to Know About Anchor Rode
The video below answers many of the topics addressed here although the article goes into more detail (so there is some reward for reading!).
What is anchor rode?
Rode simply refers to the line and/or chain that connects the anchor to your boat. (Believe it or not, rode is not a typo!)
Ideally, the rode for any anchor setup should consist of both chain and rope. The chain should be on the end with the anchor. Why use both chain and rope? First, it keeps the nylon rode from wearing away by rubbing on the bottom of the sea-floor as the boat swings. Second, because the chain is heavy, it holds the rode to the bottom so the pull on the anchor is horizontal, which reduces the chances of your anchor unsetting.
What type of rope should I use? Nylon, Polyester, or ...?
For most boaters, the best type of rope to use when anchoring is nylon. Nylon has many advantages for anchoring including:
It's elastic therefore offering good shock absorption
Light and flexible
Good strength
The most common anchor rope found in marine stores
It sinks
Nylon anchor rope is light, flexible, strong, and provides elasticity, which mitigates peak loads on your anchor and boat. Unfortunately, the very fact that nylon stretches means that it creates heat and will eventually break down and need to be replaced. However, you want a strong rope that will absorb the shock from waves and sink, not float. Nylon fits the bill of all of these things.
What's the difference between braided and twisted rope?
In our experience, for most recreational boaters, the difference between using twisted anchor rope or braided anchor rope comes down to preference and taste. Both make excellent choices for an anchor rope but there are some subtle differences between these two styles of rope.
Braided Rope
PROs
Less stiff and more flexible
Frequently stronger than twisted rope
Easier on the hands
CONs
Difficult to splice
Less stretch than twisted rope
Twisted Rope
PROs
Fairly easy to splice
Generally less expensive
Has more stretch than braided
CONs
Has a tendency to kink or hockle
More stiff and less flexible
How much anchor rope do I need and what size?
One of the questions we get asked most often is, "How much anchor rope and/or chain do I need?" When selecting how much rope and chain you need there are a couple of rules of thumb to use.
You should have 8 feet of rope for every 1 foot of water you will be anchoring in
Your rope should have 1/8" of rope diameter for every 9' of boat.
So this means a 28' boat would want at least a 3/8" or 1/2" diameter rope. Rope is one of those things, like anchors, where bigger normally is better.
As for a rope choice, Nylon is the clear favorite due to the fact it is elastic and relatively strong,
How much anchor chain do I need and what size?
Along with the rope, you should also have a smaller amount of chain between the rope and the anchor. This chain will keep your rope from rubbing against the seabed and also creates the optimal angle between your rode and the seabed. The general rule of thumb is that you want approximately 1' of chain for every 1' of boat. So a 30' boat would want 30' of chain. However, often certain constraints such as weight and locker room will not allow this ideal chain amount so in these situations you should have at least 10-15' of anchor chain for the reasons mentioned above. For boaters anchoring in extreme conditions and/or for extended periods of time, you will want about 1 foot of chain for every 6 feet of rope. The reason for the different requirements is that, in theory, by having 1 foot of chain for every 6 feet of rope, an optimal angle between the rode and the seabed will be achieved.
What type of chain do I need? (I
 

am not

 

using a windlass)

If you're not using an anchor windlass, your life is easy! Any chain that you can buy at a marine store that follows the size rules above should be adequate. Hardware store chain can also sometimes suffice but you should always be conscious of the breaking strength of it and ensure that it is galvanized. If you are not using a windlass, you can simply attach your rope to your anchor using a shackle in between (ideally your rope will have an eye and/or thimble spliced into one end to make attaching a shackle easy.
What type of chain do I need? (I
 

am

 

using a windlass)
If you are using an anchor windlass then your choices are limited and you must use only the type and size of chain specified by the windlass manufacturer. Normally this type of chain will be G4 or BBB chain. Don't have your windlass manual? We have an article that lists the type and size of chain required by most popular sizes of windlass here. Windlass chain is a whole other topic and in fact, we have another article all about windlass chain here. If you are using a windlass, remember that you must splice your rope to your chain as a shackle going through your windlass gypsy will be bad news. (You can also hook the shackle around your windlass as well once it gets to that point but that's a pain!) You can purchase a prespliced rope and chain package or you can splice your own.
Published