How to Clean Boat Fenders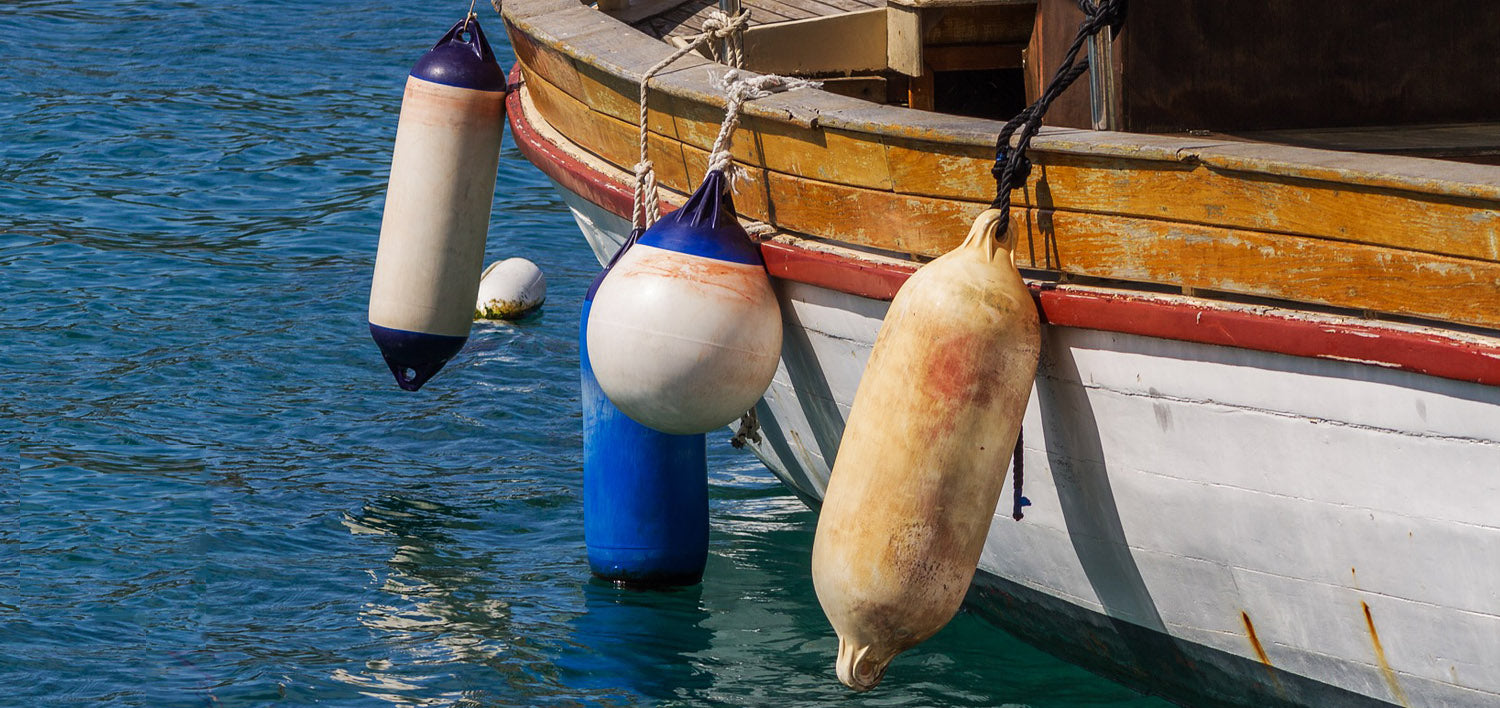 A clean boat is a happy boat. Most boat owners take great pride in the appearance of their beloved boat. There's no quicker way to spoil the beauty of your boat than to pull up to the dock with old dingy fenders hanging over the rails. Keep your boat protected and your reputation unblemished by properly maintaining your boat's fenders.
The Importance Of A Clean Fender
Dirty fenders aren't just hard on the eyes, they can also leave ugly streaks and scratches down the hull of your boat that are hard to remove. Dirt, mildew, and sediment can build up on a fender's surface from years of use and abuse. These build ups can transfer to the hull of your boat and can even damage the gel coat as they scrape against the surface. 
How To Prevent Fender Grime & Buildup In The First Place
Boat fenders are made to take abuse in order to protect your boat, so it's inevitable that your fenders will sustain some wear and tear from normal use. However, it is possible to increase the life of your fenders and keep them looking like new with the following preventative steps:
Keep your fenders out of the water as much as possible. Most of the dirt and grime that accumulates on your fender is a direct result of being left in the water. Dirt, water, and salt begin to build up on the fender leading to unwanted stains and growth. Reduce this growth by keeping your fenders out of the water when not in use.
Spray and scrub your fenders regularly to reduce stains and build up. Stay on top of stains and unwanted sediment build ups by giving them a quick spray and scrub after each use.
Dry your fenders before returning them to storage. After scrubbing your fenders, be sure to dry them completely before returning them to their storage bins. This keeps them sparkling clean for the next time you need them and also mitigates the risk of mildew growth while in storage.
Cleaning Your Boat Fenders - Do's and Don'ts
There are many methods boaters have tried to clean their fenders in the past. Some work very well and some may have ended up doing more harm than good. Here we will discuss some of the most common methods that you should and should not try.
DO use the tried and true method of regular old bleach, household soap, and comet to clean your fenders. While this method won't remove some of the tougher stains and marks, it will greatly help remove sediment build up and light scuff marks.
DO use a moderately stiff brush to help scrub away some of the more stubborn build ups. Dipping the brush in mineral spirits can also help remove stubborn scuff marks.
DO use a pressure washer to help blast away dirt and grime from the surfaces of the fender.
DO use a magic eraser to help remove stains and scuffs that the power washer and other household cleaners may not work on. Marine stores typically carry erasers made specifically for boats that do not contain harsh corrosive chemicals.
DO use specially formulated fender cleaning products. Starbrite makes an excellent inflatable boat and fender cleaner that consists of a heavy duty cleaning formula as well as a tough coating that protects against future build up and UV exposure.
DON'T use strong solvents such as lacquer thinner or acetone to clean the fenders. These cleaners can actually damage the fender material and eat through the outer coating of the fender. This will leave a sticky mess on the outside of the fender and will reduce its lifespan.
DON'T attempt to paint the fenders. While painting the fenders may seem like a quick and easy fix, the paint will inevitably begin to chip and flake away. These flakes may also begin to rub off onto the hull of your boat or even begin to scrape the sides of the boat as well.
Are Boat Fender Covers Worth It?
Boat fender covers are a fairly inexpensive way to extend the life of your boat fenders. If your fenders are well worn and beyond the point of being able to clean them then fender covers can be a great way of covering the scuffs and stains and getting a little more use out of your old fenders.
Even with covers, it's important to note that fender covers also require routine maintenance to ensure they continue operating correctly and don't damage your boat. Covers also fall victim to dirt and grime build up after enough exposure to the elements. Be sure to wash your covers often to keep them looking clean and to remove any sediment build ups that could scratch the hull of your boat.
When To Replace Your Fenders
Even with the best maintenance and preventative measures, boat fenders can only take so much abuse. We recommend checking your fenders throughout the year to ensure they are still working properly. Don't put your boat at unnecessary risk; if your fenders no longer hold air or show excessive wear it's better to be on the safe side and replace them.
Published