How to Choose the Best Rod Holders for Your Boat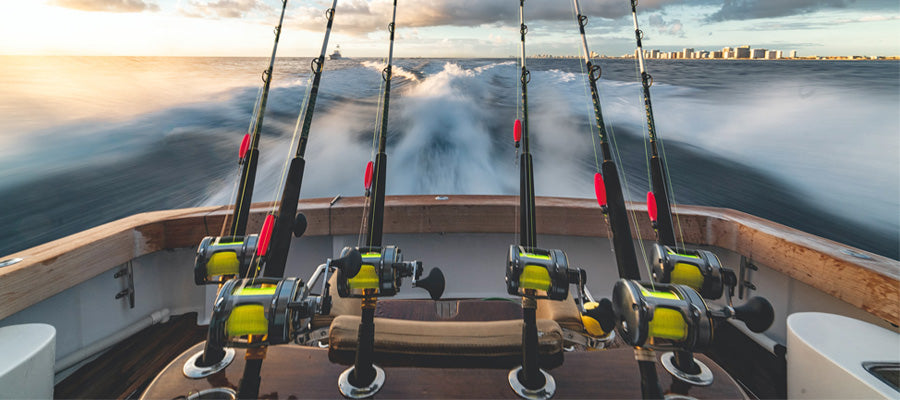 Boat owners and fishermen alike know the repercussions of arriving at the water only to realize they've left without an essential piece of their kit. That one piece of equipment could be the difference between having the best day of the season or having just another uneventful day on the water. For anglers, rod holders are an integral part of their arsenal by acting as their silent fishing assistants. 
Why You Need Rod Holders
Rod holders are an often overlooked yet extremely useful tool for fishing. A well-planned array of rod holders on your boat can eliminate some of the frustrations of fishing by keeping you organized and focused on finding the fish. Whether you are trolling for fish, switching out baits, or grabbing an afternoon lunch, a well-placed rod holder will expedite the process and ultimately help you catch more fish.
Different Types of Rod Holders
There are a variety of different types of rod holders to match any boat or fishing scenario. It's important to know how each type is used to determine which types are the best match for you and your boat.
Flush Mounted Rod Holders
Flush mounted rod holders are fixed mounts installed in the gunwale of your boat. They are typically made of high-quality steel and can keep rods vertical or at an angle of either 15 or 30 degrees. Flush mounted rod holders can be installed anywhere along the gunwale, giving anglers plenty of options to set up their boat according to their style of fishing. The high-quality steel provides a great deal of strength and reliability to keep your expensive rods where you left them.
Flush mounted rod holders are the most convenient and trusted types of rod holders for most fishermen. When installed, they remain out of the way until you need them and are strong enough to hold up against big game fish. For those who do a considerable amount of trolling or like to switch up styles of fishing often, flush mounts are the way to go.
Removable Rod Holders
Removable rod holders can be mounted to virtually any vertical surface on your boat and can be easily slid into place and back out when not in use. Removable rod holders are generally used on smaller boats or on boats that aren't set up to accommodate flush mounted holders. Removable rod holders typically lack the strength of fixed rod holders but do provide a quick and versatile option to store your rods.
Clamp-On Rod Holders
Clamp-on rod holders provide removable fishing rod storage without the need to drill directly into your boat. This style of rod holder simply clamps onto the rail of the boat and can be quickly removed or relocated wherever you need them. Clamp-style rod holders are generally recommended for small game fish and casual fishing outings.
Choose Your Rod Holder Placement Wisely
Theoretically, you can install rod holders anywhere you so choose on your boat. However, to get the most performance out of your fishing setup, you'll need to take a close look at your specific boat and plan ahead before you start drilling holes. You want to find easily accessible areas that are free from any potential obstructions. Take into account how many rod holders you plan to use and be aware of the types of surfaces you plan to mount to. Ensure that the spacing between rod holders is far enough to prevent rods from interfering with one another.
A quick and easy way to visualize this is to make a sketch of your entire boat, complete with marks for where you think you want your new rod holders to go. Measure these distances out to ensure the spacings are correct then use your sketch as a blueprint of sorts for final installation. 
Mounting rod holders by yourself is a fairly straightforward procedure if you have the right tools and some basic knowledge of how they work. It's a reasonably quick and inexpensive upgrade that brings real value to your boat and to your fishing experience. 
Published