Dock Bumpers and Fenders: Protecting your Boat from the Dock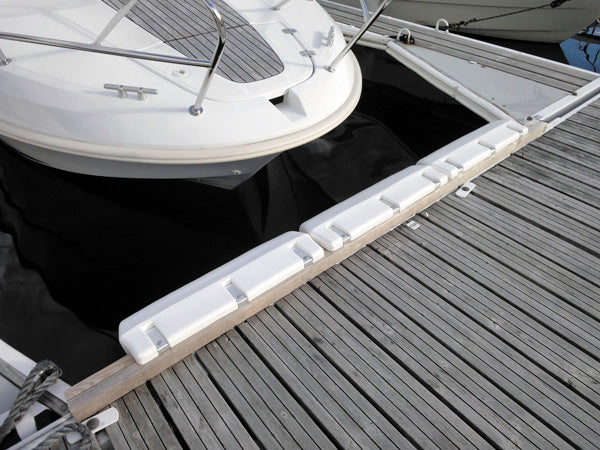 We can't all be perfect when it comes to docking. Even experienced boaters can face conditions that make docking safely a challenge. While it is important to have a full set of fenders on your boat, it is equally important to have bumpers on your dock. Dock fenders protect your boat (and the dock) from impact and can even help you guide your vessel into its slip. This article is a guide to the common dock fenders available and their usage.
Types of Dock Fenders
Tires
Oh yes, the good ol' tire. You'll find tires in all kinds of marinas, and they are largely effective against impact. Using tires also keeps them out of the landfill and extends their useful life. The main drawback with tires is that they scuff fiberglass badly. You'll certainly want to use boat fenders to keep your boat from rubbing against the tires while at the dock, especially if you have a nice shiny fiberglass hull. To be effective, tires should be hung close together and run the length of the dock or slip. You can even make a decent corner bumper out of tire.
Dock Edging
Dock edging is easy to customize. You can simply get the length you need and then screw or nail it into the dock's edge. Easy peasy. Dock edging works great to protect your boat from gentle bumps and repetitive rubbing due to wave action. Where it does not do well is impact. If you come hard into the dock you are still likely to receive damage despite the edging. Dock edging is best when used in combination with other fending methods.
Piling Fenders
Pilings add complication to docking your boat. There are several ways of dealing with pilings. It's a good idea to have fender boards on the boat to use when you are out and about, but if the piling is in your own slip, you'll likely want a more permanent bumper on the piling itself. Strap-on piling bumpers that wrap around pilings can serve this purpose. Good ol' tires can be used as well by dropping them over the top of a piling and down to the dock. Pile enough tires like this to make a full bumper.
Inflatable or Foam-filled Dock Fenders
Inflatable or Foam-filled Dock Fenders come in a few different configurations, generally, 90-degree corners and straight sections, but other angles are sometimes offered as well. Dock fenders help with both impact and rubbing. They take the hit instead of your boat. Dock fenders work well alongside dock edging for added protection. They do not necessarily have to be installed end to end, but be sure to at least cover the areas you are most likely to hit with your bow when coming in.
Dock Wheels
Dock Wheels are wonderful things. They serve the dual-duty of fending your boat off the dock and assisting it into the slip. They usually come in two configurations, corner mount and side mount. At minimum install one on the corner of your dock, but even better install another along the side. If you have a full slip, install one on each corner and one on each side. On a windy day you'll be thankful to be able to roll your boat into the slip.
Final Thoughts
The amount and type of dock fenders you use depends on your boat size, dock configuration, and the conditions you are exposed to. If you've got a big heavy boat, a slip, and often face high winds, the ideal scenario is to combine dock fender types to your advantage: use dock edging to cover all edges, dock fenders placed to absorb impact, and dock wheels to protect your boat from the corners and assist in pulling your boat into the slip. With a lighter boat against a single dock, a couple of inflatable or high-density, closed-cell foam dock fenders may be all you need.
Published