Anchoring Etiquette: A Guide for Anchoring Responsibly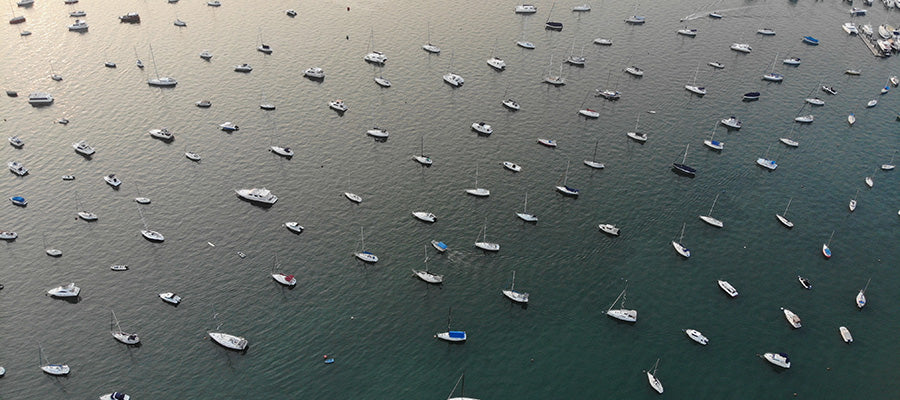 We share our waterways with a community of boaters. Knowing proper etiquette on the water is important, not only to foster orderly behavior, but for safety, and overall enjoyment of everyone involved. In this guide we'll focus on anchoring etiquette, or how to do what is expected of you at an anchorage. We'll also touch on some associated legalities and environmental concerns.
Arrival
The first boat to arrive can anchor as desired. This also sets the precedent for anyone who arrives after. If you are first, be prepared to let new arrivals know your anchoring configuration, such as location and number of anchors out, and scope. This kind of communication is important. If you are a later arrival, find out if anyone at the anchorage is on two anchors, especially if conditions are such that two anchors would be prudent, as is the case in heavier weather or a tight moorage. At the same time, you can learn what scope others have out and match it. The more similarly all boats at an anchorage react to conditions, the less likely a collision will occur. Note that if you re-anchor, you give up any legal rights you held when you were anchored initially, including first arrival rights.
New arrivals to an occupied anchorage are legally responsible for providing ample space to boats at anchor. If you've just arrived, choose a location farthest away from others. Resist the "magnet effect", or the tendency for boaters to cluster together at anchorages. It is a good idea to tour the area first, especially if it is a little crowded. This will help you find a spot that gives everyone else sufficient room and offer you the chance to communicate with others about their anchoring configurations.
Occasionally first arrivals feel emboldened to blame later arrivals for anchoring too close even if their own anchor dragged. It is best to play it courteous in such situations and give the benefit of the doubt in this scenario to the earlier arrival. Give them lots of room and remember you will be in their position sometimes.
While arriving and touring the anchorage, keep your wake to a ripple. People may be sleeping, sitting down to dinner, or working in a precarious position on their boats. You'll be far more welcome if you arrive gently.
When you find your spot, consider using buoys on your anchor(s). This is especially relevant if you are using a stern anchor as they are less common. Putting a buoy on a trip line will also help you be efficient hauling anchor when leaving but be aware that it is possible inexperienced boaters may think your buoy is a permanent mooring and try to hook it. Some boaters write their vessel name or provide other markings on their buoys to help prevent this.
If there are available moorings (real moorings, not others' anchors of course) at the anchorage you enter, use them. There is sense in not relying on someone else's idea of a firm anchor point, but you can always test it first. Back up against the mooring once you've picked it up to confirm that it is secure. Moorings are there for a reason. At popular dive locations for example, moorings are in place because regular use of anchors destroys coral.
Don't head for shore immediately after anchoring. Take the time to ensure your anchor is set properly and that you won't swing into any of your neighbors.
While at Anchor
Be mindful of noise. Boaters generally desire peace and quiet at anchor and sound carries easily over water. Most marinas enforce a quiet time between 10pm and 7am, so it is generally accepted that those same quiet hours be respected at anchor.
This probably goes without saying, but do not discharge blackwater when anchored. It is not only poor etiquette but is illegal within 3 miles of coastal shores and in inland waters, and there are also No Discharge Zones to be aware of, not to mention it is harsh on the environment. Use pumpouts or discharge responsibly offshore.
If you want to change your anchoring setup by adding scope or a second anchor, communicate this to those around you before you do so that they can adjust.
If you discover you are dragging anchor, it is your responsibility to haul and re-anchor safely as soon as possible. Once you are dragging you are no longer considered anchored and will be legally responsible for any collisions. Be aware of changes in your anchor's position especially with changes in wind direction or current.
Turn on your anchor light at night and hoist a black anchor ball up during the day. Not only is this a best practice but it satisfies Federal regulations in most circumstances.
Also at night, be careful not to shine your lights into others' boats. This is especially easy to do by accident if you are in a dinghy searching for your boat after going ashore, or while wearing a head lamp that shines wherever you are looking. Keep lights onboard down to a minimum as well. This will help other boaters sleep, maintain their night vision, or maybe even stargaze!
Final Thoughts
Avoiding a collision at anchor is everyone's responsibility. Getting into disputes about where the blame lies only interferes with swift and effective action. The safety of persons and property is the top priority. Have plans in place to fend off or move out of the way of a potential collision; for example, have boat bumpers ready to deploy and windlass ready to increase scope at a moment's notice.
Practice your avoidance plan and your anchoring techniques in an empty or uncrowded anchorage so that you work out all the kinks in your process. It can be disturbing to others if, for example, you are yelling angry instructions to your first mate because procedures aren't well known and practiced.
Let's all get along and have a great time out there!
Published